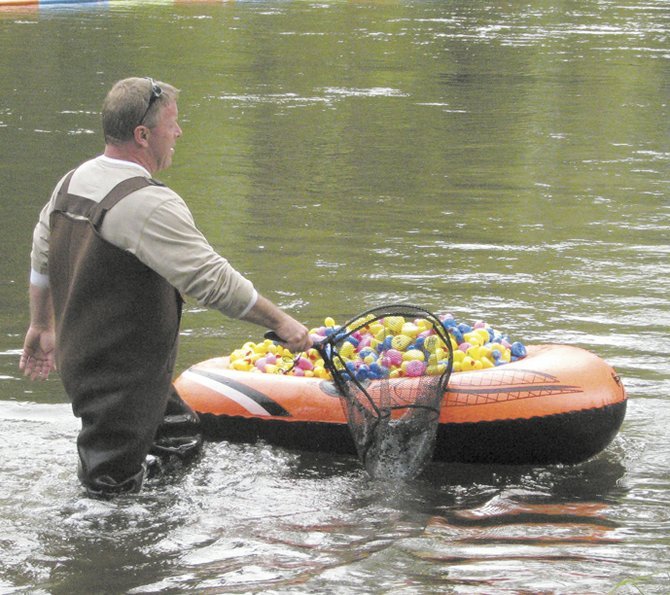 A volunteer gathers plastic ducks after the Bridgeport Duck Race last year. Last year's Bridgeport Food Pantry duck race raised approximately $25,000. This year's race will take place at 3 p.m. Saturday, Sept. 8, in Chittenango Creek.
Stories this photo appears in:

It wouldn't be out of line to say that the fate of the Bridgeport Food Pantry rests on the back of a plastic duck — or a whole creek full of them. The pantry will hold its annual "Don't Duck Hunger" duck race fundraiser at 3 p.m. Saturday, Sept. 8 in the parking lot of St. Francis Parish in Bridgeport. The race typically raises somewhere in the range of $25,000 for the pantry. "We were very successful last year. We raised $25,000. Every year, we've gone up $5,000, so you know what I'm going for this year," said Patti Hedrick, coordinator of the food pantry. "I don't know what we're going to do if this isn't successful. We're required by federal mandate to give them so much protein, a fruit and a vegetable. It's not like they can come in and we just give them some crackers and a roll of toilet paper. They have to get the requirements. We can't cut down." The food pantry, which is affiliated with the Food Bank of Central New York, serves between 150 and 165 families a month in the towns of Cicero, Manlius and Sullivan. That number spikes to near 300 around Thanksgiving and Christmas. Since July of 2011, the pantry has provided 72,230 meals, an increase of 24 percent since July 2009.