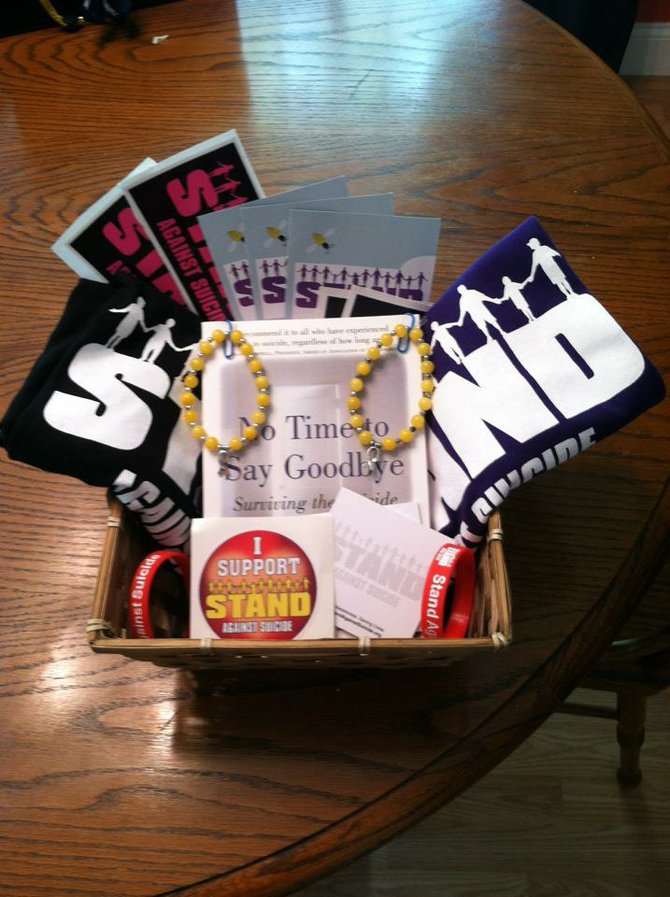 Sympathy Baskets like this one will be sent to families of those who have died by suicide by Stand Against Suicide, an Elbridge-based nonprofit dedicated to raising awareness about the risks of mental illness and to encouraging those in need to get help as well as helping families who've lost a loved one to suicide.
Stories this photo appears in:
Every 15 minutes in the United States, someone takes his or her own life. That means every 15 minutes, a family is left to wonder why. In order to help loved ones struggling to find answers, Stand Against Suicide (SAS), an Elbridge-based nonprofit that seeks to raise awareness about the risks of mental illness and to encourage those in need to get help, is sending Sympathy Baskets to families who reach out to the organization. "A friend of mine has a terminally ill parent," said Tara Dennee, who founded SAS in 2010 in memory of her father, Wayne Olmstead, who died by suicide in 2009. "Her father has cancer. A group sent them a book and a 'gift basket' with little things to make them feel comforted. I thought, what a wonderful idea for us!" SAS sent out its first Sympathy Basket Thursday, Aug. 9, to a family in Missouri that lost its mother to suicide in May. That basket contains a sympathy card, the book "No Time To Say Goodbye: Surviving the Suicide of a Loved One" by Carla Fine with a handwritten message from Dennee in the front cover, handmade beaded "Hope" bracelets made by SAS volunteers, SAS T-shirts and brochures and a few miscellaneous items specific to the family.