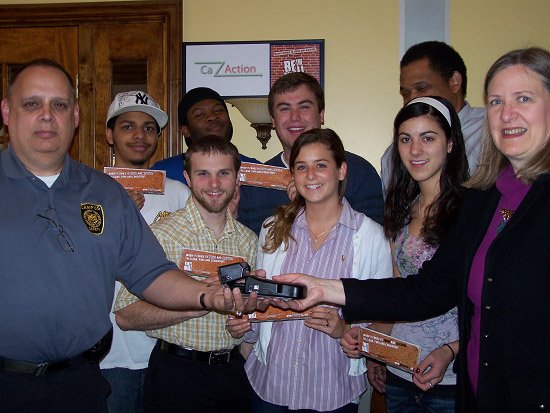 Chris Reynolds of BRiDGES and Caz Action, right, presents Cazenovia College Director of Campus Security Tom Engelman with an ID Scanner to better facilitate "Being The Wall" on the college campus. Also present to pledge to "Be The Wall," were Idonas Hughes, Associate Dean for Student Development and Coordinator for Judicial Affairs; Mathew Avery, Residential Life; RAs Jamel Brantley, Alex Hazard, Francisco Hinestroza, and Elizabeth Sydork; and Rebecca Bossin, of Caz Action.
Stories this photo appears in:

Members from multiple sectors of the Cazenovia community are sharing the message that they want to "Be The Wall" between alcohol and youth. They aspire to be supportive of building healthy social patterns.