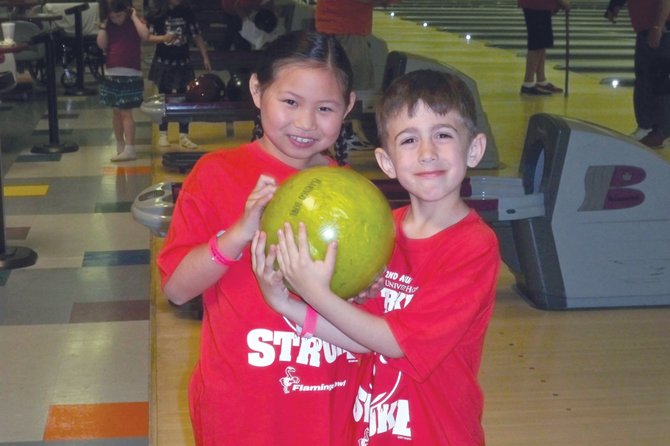 Two young participants take part in last year's Strikes Against Stroke fundraiser at Flamingo Bowl in Liverpool. The event raises money for the Upstate Stroke Center at Upstate Medical University.
Stories this photo appears in:

When she was just 17, Kim Head was at a high school dance with her boyfriend when the right side of her body suddenly shut down. She lost her ability to speak, and she developed a piercing pain behind her left eye. Though she was only a senior in high school, Head was experiencing a stroke. She was rushed to the hospital in Hamilton and then moved to Upstate Medical Center in Syracuse. Doctors found that her stroke was the result of arteriovenous malformation (AVM), a typically congenital abnormal connection between veins and artieries. After brain surgery and extensive therapy, Head was able to make a full recovery and graduate on time. In order to help stroke patients like Head, Upstate Medical University's Upstate Stroke Center is holding its third annual Strikes Against Strokes bowling fundraiser on Sunday, May 6 at Flamingo Bowl in Liverpool. The idea came from Head's sister, Carrie Head Garcia, who now lives in Clay.