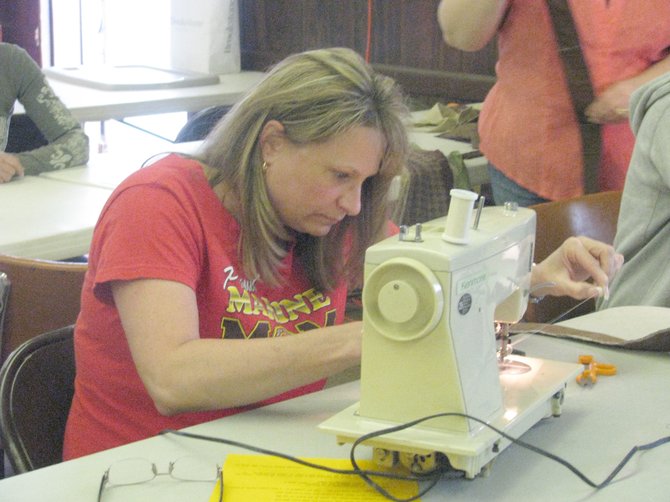 Tracy Doss, a member of the Syracuse Marine Parents, works on a neck cooler during a work bee Saturday, March 31. The coolers will be put into care packages for troops in Iraq and Afghanistan.
Stories this photo appears in:

In a stuffy room full of sewing machines, about two dozen people spent a recent Saturday afternoon stuffing sleeves of fabric with polymer beads and sewing them shut. The project was an initiative of the Syracuse Marine Parents, and the sleeves would ultimately end up as what the group calls Neck Kool-Eze, neck coolers that would ultimately be sent as part of care packages to troops in Iraq and Afghanistan. Strips of fabric are sewn together, filled with polymer beads and sewn up, then shipped overseas. The coolers are soaked in water and the beads retain the water, keeping them wet for hours at a time. The idea is that the wet strips will help keep soldiers in desert climates like Afghanistan and Iraq cool on long, hot treks. They can be tied around the neck or placed under the helmet. Syracuse Marine Parents founder Sharlene Nemitz said the group has been making the coolers for at least five years.