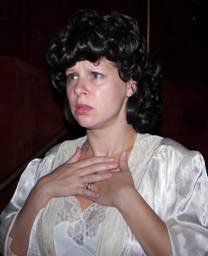 Scandal at the Fayetteville Hotel! Gladys Blaich (played by actress Jennie Russo) reveals what took place on the fateful night of June 25, 1930, at the once famous Fayetteville landmark.
Stories this photo appears in:

The Onondaga Historical Association's fall ghostwalk, " The Feminine Side of Fayetteville," strolls through the lives of five women who have a connection to the Fayetteville-Manlius area.