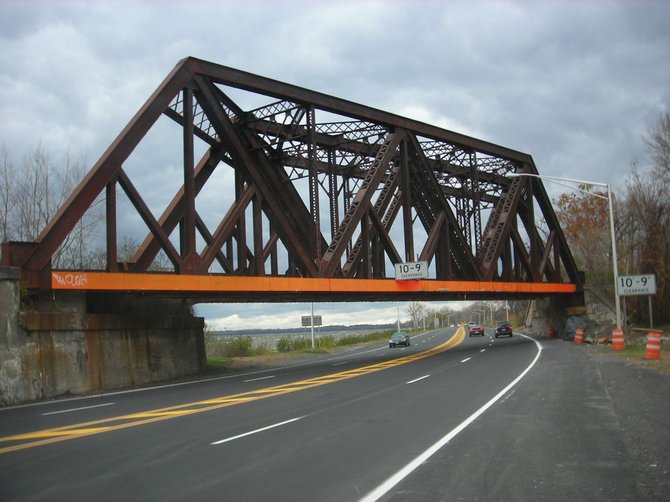 NYSDOT will soon institute a ban on all commercial traffic on Onondaga Lake Parkway to prevent over-height vehicles from hitting this low railroad bridge, the site of numerous accidents, including a fatal Megabus accident last September.
Stories this photo appears in:

Jim Nels is fed up. Nels, of Baldwinsville, is a business owner who drives a Chevy pickup truck that stands just over six feet tall. "I have commercial plates on my truck because I use it for work, and I use Onondaga Lake Parkway frequently," Nels said. "It'll cost me and my workers more time and energy to drive around the Parkway. I would say there are tens of thousands of pickups, vans, Jeeps – all low commercial vehicles – that use the Parkway every week. Do you think any of them have hit that bridge?" Nels is one of many drivers annoyed that the New York State Department of Transportation will soon enact a commercial traffic ban on Onondaga Lake Parkway, one of the most traveled routes between the city of Syracuse and the northern suburbs. According to the DOT, restricting all commercial vehicles from using the Parkway is the only way to ensure travelers' safety on the route.