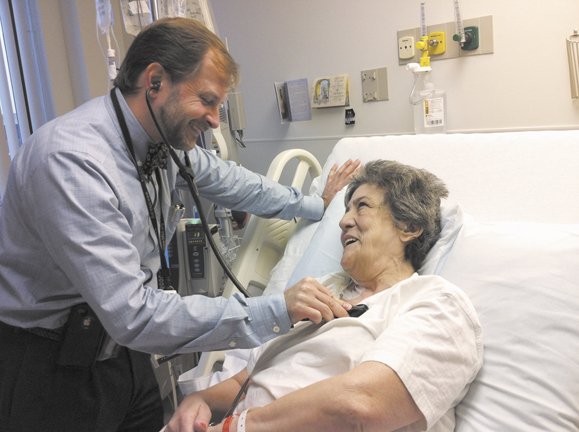 Dr. Eugene Storozynsky, a cardiologist at the University of Rochester Medical Center, listens to Carol Kankoski's failing heart. She is awaiting a heart transplant at URMC's Strong Memorial Hospital.
Stories this photo appears in:

Carol Kankoski won't be home for Christmas. She won't be home for New Year's or Presidents Day. If she's lucky, she'll be home for St. Patrick's Day, but it's not likely. Kankoski, of Mattydale, will be spending those holidays in the same place she's spent the last eight weeks: the cardiac care unit of Strong Memorial Hospital in Rochester, where she is awaiting a heart transplant. Kankoski was diagnosed with cardiomyopathy—literally translated as a deterioration in the function of the actual heart muscle—in 1999. Her heart function began to decline in 2009 to the point where her regular cardiologist, Dr. Daniel Fuleihan of the New York Heart Center in Syracuse, decided to send her to Strong for regular checkups. Her last checkup was this past October. Kankoski has been at Strong ever since.