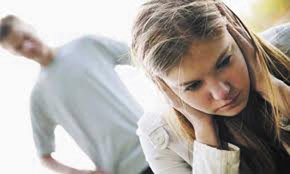 According to a 2011 study by Liz Claiborne Inc., 48 percent of college students, most of them women, have been affected by domestic violence behaviors. A 2010 study of teens (ages 13 to 19) said one in three had experienced it.
Stories this photo appears in:

Stephanie Piston has seen some awful things in her lifetime, but a recent incident in particular makes the North Syracuse mom's blood run cold. "Not too long ago, I was at the gas station," Piston said. "This young girl was walking by, carrying a bag, and this guy was walking with her and berating her. They were young – teens. And he just kept getting right up in her face, and she's trying to get away from him, and he's yelling at her. I'm at the pump, and I yell across the station, 'Hey, leave her alone. She doesn't want you to talk to her. I see what you're doing.' I'm watching, and he's getting in her face. A cop pulls into the gas station, and I grabbed the police officer. The kids had walked across the street, and it looks like it's going to come to blows. I told the cop, 'He's going to hurt her. He's verbally abusing her and getting in her personal space and won't leave her alone.' And this other woman says, 'I've been watching, too.' And there were men coming in and out of the station, and not one of them pulled this kid aside and said, 'Hey, let's go for a walk.' Not one man intervened to help this girl, but two women did. By that time, the kid had grabbed the girl and spilled the bag, and food was all over the place, and she was scared. The cop got him away from and took her home. "At one point, I was that girl, and no one knew enough to help me," Piston said.