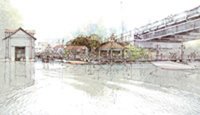 An artist's depiction of what the waterfront in Brewerton could look like once the revitalization of the hamlet is complete. The project is on hold while the town of Cicero waits for the New York State Historical Preservation Office to determine if further digging is necessary at the riverfront, which Supervisor Judy Boyke called a "known archeological site."
Stories this photo appears in:

The residents of Brewerton will have to keep waiting for their revitalization project to come to fruition. The project, which started in 2006 under then-Supervisor Chet Dudzinski, has yet to move beyond the planning phases. The town has received numerous grants for the proposal, which town and state officials have said will make the riverfront hamlet a tourist attraction, and, according to various sources, has expended anywhere from $435,000 to close to $900,000 of that money.