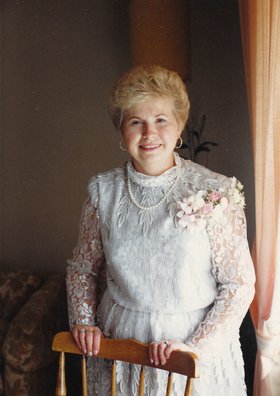 Mary Jane Valentine
unknown - March 26, 2014
Mary Jane S. (Szarowicz) Valentine, 77 of Baldwinsville, formerly of New York Mills, passed away Wednesday, March 26, 2014, with her family at her side at the Syracuse Home. She was born in Utica on Sept. 1, 1936 the daughter of the late Frank and Jane (Dulemba) Szarowicz. Mary Jane was a 1954 graduate of Utica Free Academy and in 1958 graduated from Oneonta State University where she was a member of Alpha Sigma Beta Sorority. On June 20, 1959 she married Dewey A. Valentine, a union of 55 years. Mrs. Valentine was an elementary school teacher in Clinton, New York Mills and at N.A. Walbran Elementary School in Oriskany, from where she retired. Mary Jane was an avid reader and loved to travel. She was a former member of St. Mary's Church in New York Mills, serving on the school board and was past president of the Confraternity of Christian Mothers. She was a former member of the Nine Hole Ladies Golfers at Shenandoah Country Club and volunteered her time at the Syracuse Home in Baldwinsville. Mary Jane was currently a parishioner at St. Elizabeth Ann Seton Church where she served as Eucharistic Minister and volunteered in the food pantry. She is predeceased by her brothers, Col. Eugene Szarowicz and Henry Szarowicz and her twin grandsons, Adam and Andrew Valentine.
Surviving to cherish her memory is her husband, Dewey A. of Baldwinsville; three children, Sandi (Tom) Tommarello of Baldwinsville, Michael (Carole) Valentine of Oklahoma City, OK, and Paul (Katie) Valentine of Westfield, NJ; eight grandchildren, Brian, Eric and Marisa Tommarello of Baldwinsville, Delaney, Maggie Mae and Grace Valentine of Oklahoma City, OK, and Meredith and Trent Valentine of Westfield, NJ. Also surviving are two nephews, Gene and Bill Szarowicz.
Calling hours will be Friday, March 28, 2014 from 4:00-7:00 at the Maurer Funeral Home Moyers Corners, 3541 Route 31, Baldwinsville.
Funeral services: 8:30 a.m. Saturday, March 29, at the funeral home and 9 a.m. in St. Elizabeth Ann Seton Church, 3494 Route 31, Baldwinsville where Mass of Christian Burial will be celebrated. Rite of committal and burial: 11:30 a.m. in St. Stanislaus – Casimir Cemetery, 100 Wood Road, Whitesboro.
Please consider a memorial donation to the Syracuse Home or St. Elizabeth Ann Seton Church in Mary Jane's Honor.
The family would like to thank the staff at Syracuse Home and Hospice of CNY for their kindness, care and support during Mary Jane's stay.