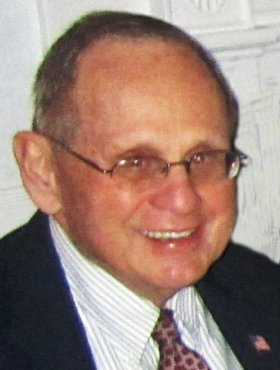 James Shope Jr.
unknown - March 2, 2014
James R. Shope Jr., 79, of Camillus, passed away peacefully Sunday, March 2, 2014 at Crouse Hospital with his loving family by his side. Born in Lancaster, PA, he grew up in York, PA before moving to the Central New York area in 1967. James was a graduate of York High School, the University of Pennsylvania and NYU where he received a master's degree. He was a financial advisor with Prudential Securities for 35 years.
A Navy veteran, James was a member of the Valley Men's Club for more than 40 years. He was also a member of Bellevue County Club, the English-Speaking Union, Canton Woods Senior Center in Baldwinsville and Immanuel United Methodist Church. He enjoyed his time with the Bellevue Heights UMC Men's Breakfast Prayer Group and spending time with his family, especially his grandchildren.
James was predeceased by his sister, Virginia Wiest.
Surviving are his wife of 50 years, the former Janet A. Oliver; sons, John R. of West Chester, PA, Stephen C. of Camillus and James R. (Michelle) III of Camillus; brothers, W. Richard (Susan) of Hershey, PA and Robert (Deborah) of Lancaster, PA; sister, Geraldine Shipley of York, PA; brother-in-law, John (Alexandra) Oliver of Calgary, Canada; grandchildren, Brendon, Gwen and Sarah; and many nieces and nephews.
Relatives and friends called Wednesday, March 5 from 4 to 7 p.m. at the Buranich Funeral Home, 5431 W. Genesee St., Camillus.
Services were at 11 a.m. Thursday, March 6 at the Immanuel United Methodist Church, 303 Kasson Road, Camillus. James was laid to rest in Greenlawn Cemetery, Warners. In lieu of flowers, contributions may be made to National Pediatric Myoclonus Center, P.O. Box 19643, Springfield, IL 62794. Please share condolences at BuranichFH.com.