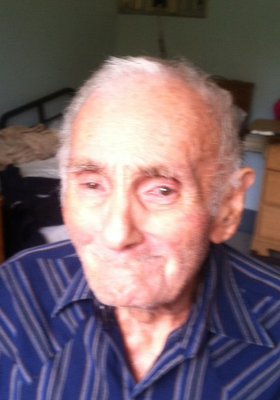 Claude Rice
unknown - March 12, 2014
Claude A. Rice, 88, of Elbridge, formerly of Marcellus, passed away Wednesday March 12, 2014 at St. Camillus. A life resident of the Marcellus area, he was also a 20-year resident of the Big Tree Retirement Park in Arcadia, FL.. He retired from Onondaga County Highway Department. Claude was a veteran of the U.S. Army serving during WWII and a recipient of a Purple Heart. He was a member of American Legion Ralph Share Post #297. Claude loved to play the guitar, square dance and country music, he was also an avid bowler. He was predeceased by his daughter Robin in 1968, his first wife Irene in 1991, and second wife Mary in 2012.
He is survived by his daughter Barbara (Chris) Bryant of Elbridge; sons Thomas (Carole) Rice of Marcellus and Terry (Carol) Rice of Preble; brother Gene (Kay) Rice of Marcellus and sister Julie Rice of Weedsport. Also his grandchildren Jennifer, Stephani, Andrew, Thomas, Joseph, Jason, Earl, William, Jeffrey and Ellen and several great grandchildren, nephews and a niece.
Services for Claude were 7 p.m. Tuesday March 18 at the Plis Funeral Home. Spring burial with military honors will be in Highland Cemetery. Calling hours were from 5-7 p.m. Tuesday prior to the service at the funeral home, 33 North St. Marcellus.
In lieu of flowers memorial donations may be made to St. Camillus.