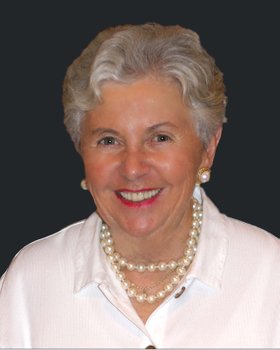 Mary Strodel
unknown - February 28, 2014
Mary Frances (Wood) Strodel, of Skaneateles, passed away peacefully with family at her side on Feb 28, 2014.
Strodel, as she was known by her friends, was the mother of eight children, married for 53 years to Syracuse attorney the late Joseph D. Strodel. Born Feb. 23, 1930, the daughter of Earl and Dorothy (Virginia) Wood, she grew up in Baldwinsville. She graduated from Syracuse University in 1951, where she was a cheerleader for the football team during her undergraduate years. She worked as an elementary school teacher and an airline stewardess for Colonial Airlines before marrying Joe Strodel in 1954. It was a long and happy marriage, resulting in three daughters and five sons who were raised in Syracuse and Skaneateles.
Mary Fran served on the Historical Landmarks Preservation Committee in Skaneateles for many years. Her interest in historic preservation led her to renovate three homes in Skaneateles, including remodeling a 1920's summer house on the lake into a year-round residence, and converting the upper floors of a historic commercial property in the village business district into a threestory private home. In 1992, she helped spearhead the community effort to renovate the Skaneateles Creamery when it was converted into a museum and became the home of the Skaneateles Historical Society.
A member of St. Mary's of the Lake Catholic Church in Skaneateles, Mary Fran was an enthusiastic golfer and avid bridge player. She was a long-time member of the Skaneateles Country Club, and loved to swim and boat on the beautiful waters of Skaneateles Lake. Her many friends will miss her joyful spirit.
In their latter years, she and her husband Joe resided in the village's historic district for more than two decades, thoroughly enjoying their grandchildren and their happy life at the center of the village in Skaneateles.
Mary Fran is survived by her children Catherine (Jeff) Davis, Cynthia (Tim) McCall, Joseph (Therese) Strodel Jr., Martin (Angela) Strodel, Julie (Joe) Scuderi, Daniel (Cathy) Strodel, Patrick (Rebecca Markus) Strodel and James (Kiki) Strodel. She has 17 beloved grandchildren, who loved their "Meema" and will always miss her: Julia Davis Collignon(Audric), Meryl Davis, Carolyn Davis, Elizabeth McCall, William McCall, Joseph Strodel III, Francis Strodel, Daniel Strodel, Truman Strodel, Louis Scuderi, Stephen Scuderi, Nathan Scuderi, Gabriella Scuderi, Allison Strodel, Julian Strodel, Merritt Strodel and Mayella Strodel. She is also survived by her sister Cynthia Wood Marrion of Jensen Beach, Fla., and her brother, James Wood of Boca Raton, Florida.
Mass of Christian burial: 10 a.m. Friday, March 7 at Mary's Church, 81 Jordan St., Skaneateles. Calling hours: 3-7 p.m. Thursday, March 6,from at Robert D. Gray Funeral Home, 49 Jordan Street, Skaneateles. Contributions may be made to Skaneateles Ambulance Volunteer Emergency Service (SAVES),77 Fennell St, Skaneateles. To send condolences visit robertdgrayfuneralhome.com.