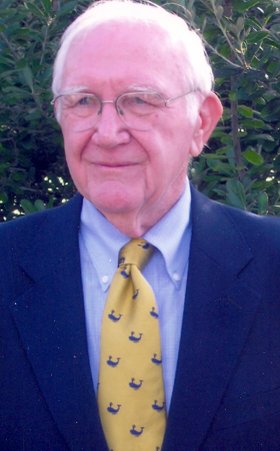 Robert Plunkett
unknown - February 15, 2014
Robert Leo Plunkett passed away peacefully on Saturday, Feb. 15, 2014, with his family at his side. He was 90 years old.
Robert was born on February 28, 1923 in Marcellus, N.Y., the son of Helen McAvoy Plunkett and James H. Plunkett. He was a veteran of World War II having served with the U.S. Army in the Pacific theatre from 1943-1945.
Robert was a graduate of Marcellus High School and Syracuse University. He attended the University of Detroit Law School. He owned and operated Robert L. Plunkett Insurance Agency in Camillus for many years. Robert was a long time member of Tuscarora Golf Club, and the Solvay Geddes Kiwanis Club. He was a communicant of St. Joseph's Church.
Robert was a devoted husband, exemplary father and loving grandfather. Nothing was more important to him than his family. He will be greatly missed.
Robert was predeceased by his beloved wife of 61 years, Kathleen Burns Plunkett and his brother James.
He is survived by his children Dr. R. Thomas (Gail) of Greensboro, Ga., Nancy P. (Guy) Easter of Skaneateles, Kathleen P. Williams of Westerville, Ohio, and John E. (Karen) of Marcellus; grandchildren Kristen P. Everett, Courtney P. Rodewald, Trevor R. Williams, Kathryn N. Williams, Dr. Ashley Plunkett Falco, Dustin R. Plunkett; and six great grandchildren .
A mass of Christian burial was celebrated in St. Joseph's Church, Camillus, on Feb. 19. The rite of committal and burial was at St. Francis Xavier Cemetery, Marcellus.
Contributions may be made to Laker Transportation Project (Laker Limo), 75 Fennell St., Skaneateles, N.Y. 13152, or S.A.V.E.S. 77 Fennell St., Skaneateles, N.Y. 13152.