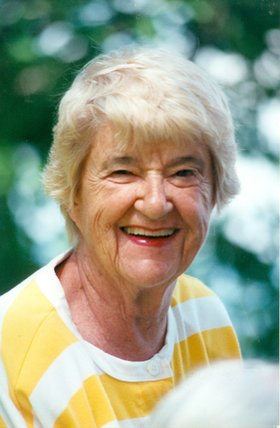 Elizabeth Bunn
unknown - July 12, 2014
Elizabeth ("Betty") Maxwell Bunn, 98, died peacefully on July 12, 2014, at Crouse Community Center in Morrisville.
Elizabeth was born July 22, 1915 in Irwin, PA to Mary Sowash Maxwell and Willard F. Maxwell. She graduated from DePauw University in Greencastle, IN and received master's degree in social work from Case Western Reserve University in Cleveland, OH.
On June 14, 1941, she married Paul Axtell Bunn MD, who became chief of infectious disease medicine at Upstate Medical Center in Syracuse. They raised three children in DeWitt. She was active in the DeWitt Community Church, the Jamesville-DeWitt schools and other community organizations. She was a member of Kappa Kappa Gamma, PEO, the Onondaga Country Club and the Century Club. After her husband's death in 1970, she moved to Sea Pines on Hilton Head Island, SC where she lived for 37 years before moving back to Cazenovia and Morrisville in 2009.
She is survived by her brother, Frank Howard Callahan of Saratoga CA; her sister Mary Constance Hornickel of Washington, PA; her children, Barbara B. Clarke (Tom) of Cazenovia; Paul A. Bunn Jr. (Cami) of Denver, CO; and Mary Elizabeth Bunn of Silver Spring, MD; 7 grandchildren, and 9 great-grandchildren.
A memorial service will be held at 4 p.m. on Saturday, Aug. 30, at Tait Funeral Home Inc., 2333 Fenner Road in Cazenovia. The family will receive following the service. Burial will be in Oakwood Cemetery in Syracuse.
For those who wish, memorial contributions may be made to Crouse Community Center, 101 South Street, Morrisville, NY 13408, CazCares, 101 Nelson Street, Cazenovia, NY 13035 or a charity of choice.
To send the family an online condolence, please visit taitfuneralhome.com.