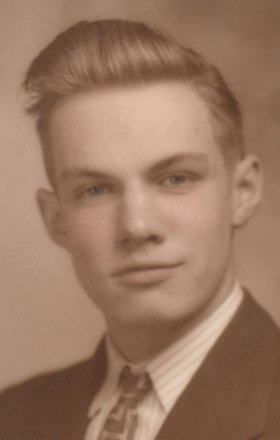 Vincent Merriman
unknown - August 14, 2014
Vincent E. Merriman, 88, of Skaneateles , "Daddy," "Papa," and "Grampie," passed away suddenly Thursday, Aug. 14, 2014.
He was a communicant of St. Mary's of the Lakes Catholic Church in Skaneateles. Vince enjoyed bluegrass music and square dancing with the Cayuga Cut-ups. He was a long time member of the Mottville Volunteer Fire Department.
He was married for 42 years to the love of his life and predeceased by Allie Mae Brewer of Amber and his daughter Kathy. Born in Otisco, he was the son of James Franklin and Margaret Agnes (Flanagan) Merriman and is survived by his children; Donna (Tom), Colleen, Sherey (Jerry) and his siblings Paul, Arlene Swete, and Lucy Swanson and his partner Dolly Flick, 7 grandchildren; Brendan, Tim (Allison), Kristin (Mike), Joe (Sarah), Jen (Tim), Devon and Morgan. He enjoyed 8 great grandchildren; Will, Allie, Ainsleigh, Jace, Christian, Luke, Benny, Allie May. Vince has many nieces, nephews, grand nieces and grand nephews.
Vince was an employee of Jones McCrea for many years and was presently employed by the Village of Skaneateles Water Treatment Plant.
In addition to his careers he could often be found helping anyone in need whether family, friend or stranger. Day or night, near or far, snow, sleet, rain or sunshine, no deed was too big or small. He was a devoted husband, father, grandfather, great grandfather, partner and friend. He will be greatly missed.
Funeral Mass: 10 a.m. Wednesday Aug. 20, in St. Mary's of the Lake Church, Skaneateles. Burial in St. Mary's Cemetery, Skaneateles. In lieu of flowers, contributions may be made to the Mottville Fire Co. or St. Mary's of the Lake food pantry.
To send condolences visit: robertdgrayfuneralhome.com.