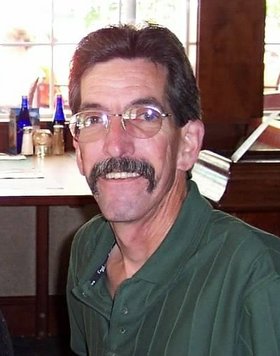 David Bedford
unknown - August 2, 2014
David "Bedrock" Bedford, 61, of Port Charlotte, FL, and formerly of Syracuse, died suddenly on Saturday, Aug. 2, 2014. David worked for Cooper Crouse Hinds for more than 32 years when he unofficially retired in 2005 and moved to Nashville, TN. He worked in the lighting division on Morgan Road and wore a lab coat thus earning him the nickname "Doc Bedrock." Co-workers still referred to him as "Doc" or "Bedrock." Prior to retirement he worked for the PNR Dept. in tool design and CNC programming. David held joint patents with CCH in design and engineering.
In 2005, David was in a motorcycle accident that left him disabled. He and his wife Candy moved to Port Charlotte, FL in December 2012 to fulfill a longtime dream to be near big water. David enjoyed fishing, boating, camping, dancing and country music.
He was predeceased by his father, William "Bill" Bedford in 1998.
Surviving to cherish his memory are his mother, Myrtle "Betty" of North Syracuse; his loving wife of 14 years, Candy; sons, Brian (Colleen) of Webster, NY; Matthew (Jennifer) of Glenwood Springs, CO; his sister, Sue (Tom) Neave of Pennellville, NY; five grandchildren, Keegan, Ainsley, Marin, Hannah and Emma; uncles, Michael of South Lyon, MI; Malcolm and Barney (Dorothy) both of Syracuse; a niece, Michelle (John) Daws; and great nephew, David Daws of Liverpool.
Funeral services: 10 a.m. Thursday, Aug. 7, at the Maurer Funeral Home Moyers Corners. Calling hours: 4 to 7 p.m. on Wednesday, Aug. 6, at the funeral home, 3541 State Route 31, Baldwinsville. In lieu of flowers, contributions in David's memory may be made to the SPCA, 5878 E. Molloy Rd. Syracuse, NY 13211 in honor of his love for animals, or please don't hesitate to make your donation to your family, have a dinner, wet a line, hit a ball or spend time together, as life is too short.