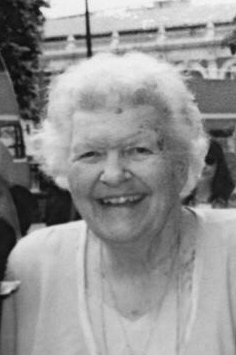 Beth Sturley
unknown - August 2, 2014
Beth F. Sturley, 93, of Kirkville, died peacefully on Saturday, Aug. 2, 2014. Born Feb. 14, 1921, in Iron River, MI, she was the fourth child of Nelson and Lucia Fisher. Beth graduated from Melbourne High School in Florida, attended Carleton College and graduated from the University of Chicago in 1942. She received her master's degree in 1944 from the University of Pennsylvania. She worked at Walter Reed Army Medical Center, The Foote School in New Haven, CT, and was a self-employed craftsman. She was a member and active in several volunteer groups at Trinity Episcopal Church in Fayetteville; worked through International Wives with spouses of foreign graduate students and professionals in the Syracuse community; and served as president of the Minoa Library Association.
She was predeceased by her son, Richard A. Sturley II in 1983. She is survived by her husband of 69 years, Richard A. Sturley; son, Michael F. (Michele Deitch); former daughter-in-law, Deborah Atkinson; grandchildren, David M. (Christine) Ryan, Sara J. (Walter) Snow, Dr. Wayne R. (Megan) Sturley, Keith R. Sturley, Jennifer D. Sturley, and Elizabeth C. Sturley; great-grandchildren, Elizabeth, Amanda and Michael Ryan, Autumn, Alex (Hallie), Abby and Sammi Snow; and Richard and Quentin Sturley; and great-great-grandchildren, Walter and Kent Snow.
Celebration of life: 10 a.m. Thursday, Aug. 7, at Trinity Episcopal Church in Fayetteville. Contributions: may be made to Trinity Episcopal Church, 106 Chapel St., Fayetteville, NY 13066. For a guest book, please visit scheppfamily.com.