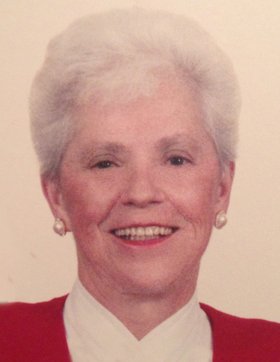 Karen Tamutus
unknown - September 18, 2013
Karen Graham Tamutus, 79, of Camillus, has gone home to be with her family that she has not seen for awhile on Wednesday, September 18, 2013. Born in Olean on April 11, 1934, she attended Olean High School and was the daughter of Everett and Genevieve Graham. She married Robert Tamutus in October of 1955 and they moved to Syracuse with their two children, David and Gayle, so that Bob could attend Syracuse University.
Karen worked as a homemaker, artist, waitress and bookkeeper during the years that they built their business, Onondaga Suburban Foods. She operated a food booth at the New York State Fair for 35 years known as Paisano House of Sausage. She and her daughter, Gayle, built a hand painted glassware business throughout CNY.
Karen was a wonderful mother and raised her children in Camillus for many years. She opened her home to many others and was known as, Mom, Mrs. T, Aunt Karen and Nana. She took great pride in welcoming everyone into her home. She was a communicant of St. Joseph's Church in Camillus and member of the bereavement luncheon committee. An avid golfer, she was a member of Lakeshore Country Club, and the Eastern Star. She enjoyed painting.
Karen was predeceased by her parents, Everett and Genevieve Graham; brother and sister in-law, James and Maxine (Mitter) Graham; granddaughter, Jennifer Lynn Tamutus, in 1999; and grandson, Aaron Joseph Guadagnolo, in 2008.
Surviving are her husband of 57 years, Robert; son, David (Patty Stripe Conway) of Syracuse; daughter, Gayle (Tom) Guadagnolo of Jordan; brother, Robert (Jane) Graham of Boston, NY; daughter-in-law, Karen (Demperio) Tamutus of Sarasota, FL; grandchildren, Lindsay (Tim) O'Shea of Atlanta, GA, Mackenzie Tamutus and David R.J. Tamutus, both of Syracuse, Kyle (Brittany) Guadagnolo of Crofton, MD, Thomas Guadagnolo Jr. of the Bronx and Jeffery R. Guadagnolo of Jordan; six great-grandchildren; brother-in-law, Richard Tamutus of Olean; sister-in-law, Hildegard Tamutus of NJ; and many nieces and nephews.
Karen's place of happiness was in her home and with her family and friends. She was always planning an outing with her children and grandchildren. She also enjoyed going to the casino. We are sure that she has a game of canasta planned with her dear friend, June Ross. She loved to entertain or just sitting with friends listening and laughing to jokes that she didn't get. She was always there to help and protect you.
Karen will be greatly missed but she leaves behind a legacy of kindness, friendship and love.
Relatives and friends called from 4 to 7 p.m. Friday, Sept. 20, at the Buranich Funeral Home, 5431 W. Genesee St., Camillus. Services were at 9 a.m. Saturday, Sept. 21, at the funeral home and 9:30 a.m. in St. Joseph's Church where Rev. Peter Worn and Rev. John S. Finnegan celebrated a funeral Mass. Karen was laid to rest in Maplewood Cemetery, Camillus.
In lieu of flowers, contributions may be made to Hospice of CNY, 990 Seventh North St., Liverpool, NY 13088 or to CNY SPCA, 5878 E. Molloy Rd., Mattydale, NY 13211.
Please view the Tamutus Family Video Tribute and share condolences at buranichfh.com.