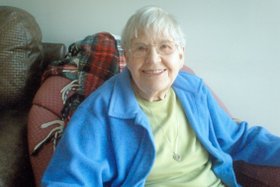 Freda A. Kirkley
unknown - September 19, 2013
Freda A. Kirkley, 93, of Fayetteville, passed away peacefully Sept. 19, 2013, at Iroquois Nursing Home. Freda was born in Altmar, N.Y., and graduated from Syracuse Memorial Hospital School of Nursing and the University of Pennsylvania School of Dental Hygiene. Freda worked along side her husband, Dr. George B. Kirkley for 25 years as a dental assistant and hygienist.
She was a lifelong member of University United Methodist Church where she also taught Sunday School. She was a Camp Fire and Cub Scout Leader. She was an avid reader, and loved gardening, birds, poetry, music and especially her children, grandchildren and great-grandchildren.
She was predeceased by her husband of 64 years, Dr. George B. Kirkley in 2011 and also four brothers and a sister.
She is survived by her children, Daniel of Newmarket, Ontario, Canada, Cynthia Kirkley of Camden, David of East Syracuse, Laurel K. (Peter) Notturno of Canton, OH and Dr. Scott (Martha) Kirkley of Rochester; four grandchildren, Mary (Kyle) Jaracz and Amy (Andy) Black, Andrew Kirkley and Alec Kirkley; and two great-grandchildren, Caleb and Wyatt Jaracz.
Services were held at University United Methodist Church, 1085 E. Genesee St., Syracuse. Burial will be in Fayetteville Cemetery. Calling hours were held at Eaton-Tubbs Fayetteville Chapel, 7191 E. Genesee St., Fayetteville, NY.
Contributions: may be made to University United Methodist Church, 1085 E. Genesee St., Syracuse, NY 13224.