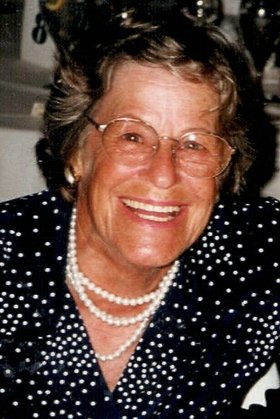 Eunice Carpenter
unknown - September 17, 2013
Eunice Carpenter (nee Eunice Amelia Pass), 86, died of natural causes on Sept. 17, 2013 at home in Wynnewood, PA surrounded by her family. She was preceded in death by her husband, Darrell W. Carpenter ("Dee"), who passed in April 2012.
She and her twin sister Ann Gourley (nee Ann Greatbach Pass) were born in Syracuse to Syracuse industrialist Richard Henry Pass (Syracuse China, Pass and Seymour) and Ruth Pennock Pass. Eunice attended Emma Willard School in Troy, N.Y., Pine Manor Junior College in Chestnut Hill, MA and graduated with honors from Vassar College in Poughkeepsie, N.Y..
In 1955 she married Dee whom she met while working for Syracuse China and together they shared a rich life creating a loving family, building businesses and serving others. They raised their family in Manlius, then in Madison, N.Y., and lived most recently in Wynnewood, PA, with and near children and grandchildren.
Her commitment to service led her to be actively engaged in the Junior League of Syracuse and the Vassar Club of Syracuse. She served with dedication as president of the Manlius Community Council for many years, led an active Camp Fire Girls troop, and was president of the Fayetteville-Manlius Eagle Hill Middle School parents group.
Eunice embraced Life, particularly nature, arts, skiing and tennis. With a vision for living fully, she led her children to experience these and many other wonders. More than anything else, she loved being a mother, grandmother, and great-grandmother. She reveled in the adventures that each of those roles provided.
She is survived by children Darrell Ward Jr. (Catherine), Henry Ira (Melissa), Ruth Ann (Stacy), and Richard Bradley (Jeanie), and many grandchildren, great-grandchildren, nieces and nephews. is also survived by her sisters Ruth Pass Hancock of Syracuse, NY and Adelaide Pass Curran of Vero Beach, FL. Sisters and Eleanor preceded her in death.
A memorial service will be held on Saturday, October 26 in Syracuse, NY. Please contact racarpenter88 @msn.com for information. In lieu of flowers, donations in Eunice's honor may be made to Baltimore Woods Nature Center, 4007 Bishop Hill Rd., Marcellus, NY 13108, 673-1350.