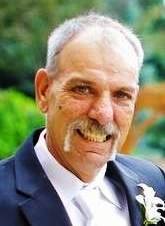 Thomas Carino, Sr.
unknown - September 8, 2013
Thomas Carino, Sr., 54, of Elbridge, passed away unexpectedly on Sunday, Sept. 8, 2013. Born and raised in New Jersey, he moved to New York with his wife and children in 1990. He worked as a heavy equipment operator.
Tom enjoyed fishing, golfing with his son, stock car racing, watching movies, and being followed around by his dog, Chase. He recently celebrated two of the proudest moments of his life; the graduation of his son, Thomas Jr. from Syracuse University and the wedding of his daughter, Chrissy, in Ann Arbor, MI.
Tom was predeceased by his mother, Patricia Pond; grandparents, Thomas "Pop" and Marguerite "Granny" Turner; and aunt, Eileen "Nee-Nee" Ettore.
Surviving are his wife of 26 years, Ann Carino; daughter, Chrissy (Michael) Nisson and son, Thomas Jr., both of Ann Arbor, MI; father, Lawrence Carino of NJ; brothers, Joe Carino of Camillus, and Larry (Josie) Carino, Lance Carino, and Brian (Deana) Passamante, all of NJ; many nieces and nephews including, Joey Carino Jr. of Camillus; and faithful dog, Chase.
Tom was the most hardworking man that you could ever know. He had a big heart and would do anything for anyone. He loved his wife, children, and brothers more than anything in the world and will be missed beyond words.
Relatives and friends called from 4 to 6 p.m. Thursday, Sept. 12, at the Buranich Funeral Home, 5431 W. Genesee St., Camillus. Services followed at 6 p.m. at the funeral home with Rev. Msgr. Francis Osei-Nyarko officiating. Burial was private. Please share condolences at buranichfh.com.