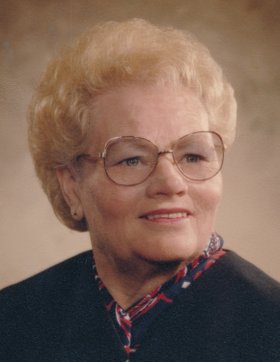 Mary M. Lessaongang
unknown - September 17, 2013
Mary M. Lessaongang, 85, of Baldwinsville passed away Tuesday, Sept. 17, 2013, at Iroquois Nursing Home. She was born in Amarillo, TX and lived in the Syracuse area most of her life. Mary was the Town Clerk in VanBuren and the Town Justice for 25 years.
She volunteered at Contact Telephone Counseling. Mary was a member of the Clay Community Church. She was past president of the Christian Women's Fellowship, member of the board of directors of Meals on Wheels, P.E.A.C.E. and Canton Woods Senior Center, and a member of the VanBuren Republican Women's Club.
She was predeceased by her husband Joseph in 1980.
Survivors: Her daughter, Teresa (Allen Hopkins) Lessaongang of Baldwinsville; 2 grandchildren, Daniel (Kate) Hopkins of Nazareth, PA and Christine (Casey Straub) Hopkins of Woodbridge, VA; her step daughter-in-law, Carol Regal and Carol's children Connie, Sue and Mary Lou; a brother-in-law, Robert Littau and sister-in-law, Bette Lessaongang both of Syracuse; several nieces and nephews.
Services: 10 a.m. Saturday, Sept. 21, at Falardeau Funeral Home, Baldwinsville. Burial in White Chapel Memory Gardens, Dewitt. Calling hours are 4-7pm Friday, September 20, 2013, at the funeral home, 93 Downer St. Contributions: Clay Community Church Building Fund, PO Box 2467, Liverpool, NY 13089 or Meals On Wheels, 76 Canton Street, Baldwinsville, NY 13027.