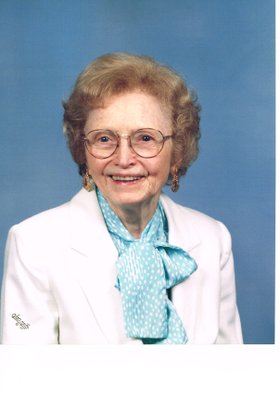 Luella Lloyd
unknown - September 10, 2013
Luella Faye Warne Lloyd, 99, of Manlius passed away at her home on Tuesday, Sept. 10, 2013. Luella was born on Aug.10, 1914, in Cambridge, Ohio to John Harrison and Oella Irene Johnson Warne. She was married to Charles Ray Lloyd who predeceased her in 1967.
A Manlius resident since 1954, Luella was active in her community as a member of Lionelles and the Manlius United Methodist Church women's organization and a volunteer for the Manlius Senior Citizens. An avid bridge player, she was a member of the St. Ann's Bridge group and played with several other groups over the years. She also played golf with the women's golf leagues at Bellevue Country Club, Drumlins Country Club and Lyndon Golf Course. She loved sharing personal stories of the past century and contributed to preserving history, including her role in hand quilting Onondaga County's Bicentennial Quilt that currently hangs at the entrance to the Onondaga Public Library at The Syracuse Galleries.
Luella retired at the age of 90 after 10 years as an employee of Casual Country in Shoppingtown and 31 years at the Sibley's, Kaufmann's and Macy's stores in Fayetteville and Shoppingtown, where she was a familiar face in the ladies' handbag department for 25 of those years.
Luella is survived by three daughters, Marilyn (Ron) Lundquist of Bethesda, MD; Barbara (Jim) Britt of Syracuse, NY; and Janet (Ken) Sherman of Boise, ID; a brother, John A. Warne of Cambridge, OH; four grandchildren and six great-grandchildren.
The family wishes to extend profound thanks to Luella's wonderful care givers who tended her during her last few years.
Burial will take place at a private, graveside service in Stockbridge Cemetery, Stockbridge, NY. There will be no calling hours.
In lieu of flowers, please consider a donation to the Manlius United Methodist Church, 111 Wesley Street, Manlius, NY 13104; Manlius Fire Department, 4 Stickley Drive, Manlius, NY 13104; or Hospice of Central New York, 990 Seventh North Street, Liverpool, NY 13088-3148.