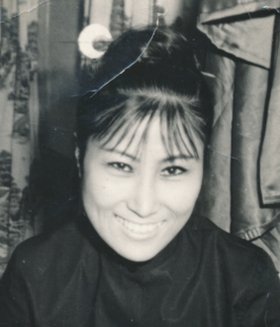 Choonja Rice
unknown - September 18, 2013
Choonja Rice (James) passed away Wednesday, Sept. 18, 2013, at her home in Baldwinsville with her loving husband Rick at her side after a long battle with cancer. Born in Hokkaido, Japan, to her Japanese friends Choonja was known as Haruko, formerly worked at Nestle's Foods in Fulton. She loved her family, cats, gardening, playing bingo and her bingo friends.
She was predeceased by her first husband, Kenneth and one sister.
Surviving is her love of 26 years Richard "Rick" James; two sisters and one brother; her sisters-in law, Mary (Pete) VanBuskirk, Debra (Ted) Pittsley, Michele Lovins, Jeanine (Randy Roberts) Gates; brothers-in-law, Harry (Anna), Jesse, Michael, Edward, George (Betty) James and Herbert (Christine) David; her mother and father-in-law, Richard and Jeanine David; along with 39 nieces and nephews.
She will be sadly missed by all.
I want to thank HOA at Brittonfield, Crouse, Community, Upstate Hospitals and all Home Care Services, Hospice all my family and friends for the loving support, phone calls, cards and food.
Calling hours: 3-6 p.m. Sunday, Sept. 22, at the Falardeau Funeral Home, 93 Downer St., Baldwinsville, NY. Contributions: In lieu of flowers to Cat Coalition or the SPCA.