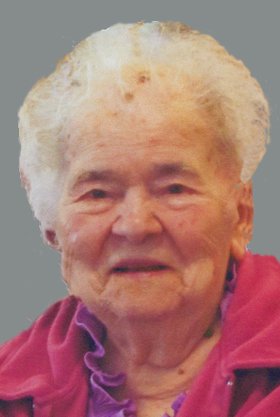 Alice Schoenhals
unknown - September 11, 2013
Alice Schoenhals, 100, of Camillus, died Wednesday, Sept. 11, 2013 at Van Duyn Home & Hospital. Born in 1913 in Lodz, Poland, she was the daughter of Johann and Helene Flohr. She lived through two world wars.
Alice and her husband came to America around 1955. They were "sponsored" by the Atonement Lutheran Church in Syracuse. They settled on the south side of Syracuse until the mid '60s when they moved to Camillus. Alice worked at Crouse Hospital for 18 years as the formula maker for preemies. A lifelong and devoted member of the Lutheran faith, she was a member of St. Michael's Church in Camillus where she was an active member of the Sunday Nite Fellowship and the Lutheran Church Women. A member of the Camillus Seniors, she was also part of the Syracuse Liederkranz Club and the Arion Club where she met and enjoyed the fellowship of many members.
Alice was predeceased by her parents, Johann and Helene Flohr; husband, Arthur in 1995; and sister, Toni in 2007.
Graveside services were at 1 p.m. Friday at Woodlawn Cemetery, 800 Grant Blvd., Syracuse with Rev. Kenneth Heuermann and Rev. Janet Fechner officiating.
In lieu of flowers, contributions may be made to St. Michael's Lutheran Church, 5108 W. Genesee St., Camillus, NY 13031. Please share condolences at buranichfh.com.