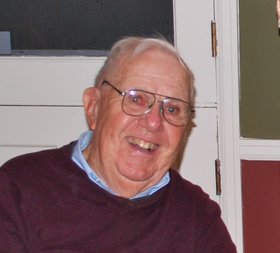 Clifford Blakey
unknown - September 12, 2013
Clifford Russell Blakey, 93, of Fayetteville, died Thursday, Sept. 12, 2013.
Cliff was born in Schenectady, N.Y., on Oct. 13, 1919 to Jean Laren and Ernest W. Blakey. He had two brothers, Thomas and William. He attended Mount Pleasant High School in Scotia, N.Y., and was active in sports. He went into the Army in 1941, in the last Cavalry unit in the U.S., where he learned to ride his trusty steed French Eagle. The cavalry was disbanded within a year in favor of using tanks. He then became a Staff Sargent and drove an ambulance in France supervising a medical corp.
He was employed by the Sealtest Corporation in 1946 was a consummate ice cream salesman, winning several awards, retiring from Kraft after 36 years. He was able to convince grocery store managers to invest in refrigeration units to sell ice cream, which was only offered at soda fountains at that time. He met and befriended many people in Central New York in his travels, and always ran into people he knew wherever he went. His was the most popular house in the neighborhood as the freezer was always well stocked. He was a member of Grocery Manufacturer's Representatives (GMR) serving as President from 1979 to 1980.
Cliff married Nancy French Girard in 1956. He enjoyed a wide circle of friends throughout his lifetime, and was an avid skier, passionate golfer, followed Syracuse University sports closely and considered himself a natural athlete. He was a founding member of the Onondaga Ski Club, and with those friends he enjoyed many adventures including train trips to Sun Valley and Aspen as well as to Whiteface and Snow Ridge. Cliff and his family also shared a summer camp on Skaneateles Lake with seven other families who became his dearest friends. He continued to play cards with his Thursday night group up to the end of his life.
He spent many happy hours at Green Lakes Golf Course, which he considered the finest course in the area, playing there with a group of friends into his early 90s. He played in many tournaments in the area with his golf partner, Bruce Bolton. He took annual trips to Oak Island, North Carolina with friends from GMR each spring to get a head start on the golf season.
He was a long-time member of Dewitt Community Church and volunteered as a Meals on Wheels driver for over 20 years.
He was pre-deceased by his wife, his parents, his brothers. He is survived by his daughters, Mary Ellen Blakey, Diane Blakey Minutilli and son-in-law John Minutilli. He is also survived by Allison, Robert and Susan Studdiford, and their children Rafael and Andrew Ronquillo and Adrian and Liam Studdiford with whom he has maintained a life long family bond, sister and brother in law Lucia and Fred Mitchell, many nieces and nephews and many dear friends.
He wanted friends and family to gather to tell stories instead of calling hours and a service. The gathering will be held at Green Lakes Golf Course clubhouse from 2 - 5 p.m. on Sunday, Sept. 29. For more information contact 731-7684.
Contributions may be made to Hospice of Central New York, 990 Seventh North St., Liverpool, NY 13088 or FM-JD Meals on Wheels, P.O. Box 72, Manlius, NY 13104.