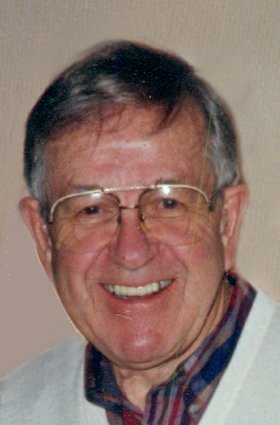 Dr. Eugene Bluto
unknown - September 7, 2013
Dr. Eugene "Gene" J. Bluto, 89, of Camillus, passed away Saturday Sept. 7, 2013 at The Centers at St. Camillus. Born and raised in Grand Isle, Vt, he lived in Camillus since 1954. He was a graduate of Milton High School, received his doctorate from the University of Vermont and served his residency at Upstate Medical Center.
Dr. Bluto retired in 1992 after 36 years as a family physician with Bluto & Palmer, P.C. in Camillus. An Air Force veteran of World War II, he was a communicant of St. Joseph's Church, enjoyed golf, and was a gifted woodcarver and painter. He was also former member of the Camillus Elks and Onondaga Woodcarvers and volunteered his services at various clinics in downtown Syracuse.
Dr. Bluto was predeceased by his wife of 58 years, the former Virginia "Iggy" Foote, in 2007; and brothers, Firmin, Justin and Cyril.
Surviving are his sons, Charles (Cynthia Jorgensen) of Narragansett, RI, Jeffrey of Camillus and Stephen (Suzette) of Forest Hills; daughter, Jocelyn (Bill Hatfield) Bluto of Warwick, RI; grandchildren, Catherine Bluto and Charlene Bluto, both of Syracuse, and Nicholas Bluto and Alexandra Bluto, both of Forest Hills; great-granddaughter, Summer E.; sisters, Katherine Schumpf and Shirley Hebert, both of Burlington, VT; brother, Richard (Lorraine) Bluto of Burlington, VT; and several nieces, nephews and cousins.
Relatives and friends called from 4 to 7 p.m.Wednesday, Sept. 11 at the Buranich Funeral Home, 5431 W. Genesee St., Camillus.
A funeral mass was celebrated at 11 a.m. Thursday, Sept. 12 at St. Joseph's Church. Dr. Bluto was laid to rest in Greenlawn Cemetery, Warners. In lieu of flowers, contributions may be made to Doctors Without Borders USA, P.O. Box 5030, Hagerstown, MD 21741. Please share condolences at buranichfh.com.