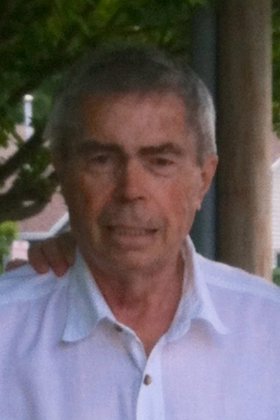 Richard Lucas
unknown - September 8, 2013
Richard (Ric) Lucas, of Radisson, died peacefully Sunday morning, Sept. 8, 2013, at home after a long courageous battle with cancer surrounded by his loving family. Ric was born in Watertown, N.Y. He was a veteran of the U.S. Navy. Ric attended LeMoyne College and graduated from Syracuse University. He retired from Mohawk Customs as their Export Manager. He loved the New York Yankees and Giants and was an avid Syracuse University and Baldwinsville sports fan. He was a member of Radisson golf course; served on the RCA Board for many years. He enjoyed numerous activities especially community theatre groups; and was President of CNY Art Guild. His passion was painting using watercolors, pen and ink; golf and walking on the sand at Myrtle Beach. He and his wife Barbara enjoyed wintering in Myrtle Beach. He and Barbara were founding members of St. Elizabeth Ann Seton Church and he served in many capacities: parish council, lay reader, Eucharistic Minister, and volunteering at Seton Food Pantry whenever he was needed. He was a community minded person; his interests in others and his sense of humor made him a lively companion.
Ric is survived by his high school sweetheart Barbara (Gilson) Lucas; his wife of 56 years. He was the beloved father of Julie (Gary) Seely, Meg Lucas and Dr. Paul (Dawn) Lucas. He was much loved by his grandchildren Cyndie, Laura, Amanda, Margaux, Jillian, Justin and Anna; great grandchildren Christian, Corbyn, Cynthia Julieanne, Emily and Hayden as well as numerous nieces and nephews.
The family would like to thank Dr. M. Daniel Bingham and his wonderful staff at Hematology Oncology Associates. According to Ric's wishes his body was donated to Upstate Anatomical Gift Center. Memorial service: 10:00 a.m. Saturday, Sept. 14, at St. Elizabeth Ann Seton Church, 3494 NYS RT.31, Baldwinsville, NY 13027, with family greeting people at 9:30 a.m. in the gathering area. In lieu of flowers donations may be made to the Seton Food Pantry.