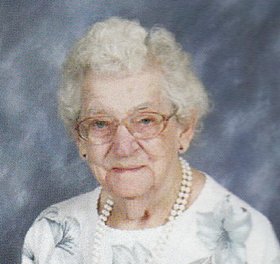 Addie Coggen
unknown - September 6, 2013
Addie Coggen of Skaneateles, 102, passed away on Friday, Sept. 6, 2013. She was the wife of the late Thomas (Herb) Coggen. She is survived by three loving daughters, Doris (Coggen) McKeon of Clearwater, Florida, Norma (Coggen) Chamberlin of Lansdale, Pennsylvania, and Mary Lou (Coggen) Bender of Baldwinsville, New York. Also seven grandchildren, seven great-grandchildren and many nieces and nephews. She was preceded in death by a grandson, Timothy Bender, four sisters and seven brothers.
Addie worked first for the Waterbury Felt Company and then Welch Allen in Skaneateles Falls for many years before her retirement. She was a member of the St. Andrews Methodist Church and supported local community service organizations.
She was amazing in her senior years, retaining her mental sharpness and interest, living by herself in her senior community apartment until early last year. She enjoyed her crafts, such as embroidering, and also loved cooking and canning; all of which she continued to do into her late nineties.
Addie's family and friends were all very important to her and she greatly enjoyed her time with them, as they did with her. That included going to meals with them, and family gatherings.
In early 2012, Addie's mobility and overall health diminished to the point where she knew she needed continuing assistance, so she gave up her apartment and moved to a room in the Loretto Health Center. With her sweet personality and exceptional mental alertness, she quickly became a favorite resident among the Loretto staff, and she greatly appreciated the special care she received.
In lieu of flowers, contributions may be made to Skaneateles Saves Ambulance or St. Andrew's United Methodist Church. Services were held on Monday, Sept. 9, at Robert D. Gray Funeral Home, Skaneateles. Burial was in Lake View Cemetery, Skaneateles. To send condolences visit: robertdgrayfuneralhome.com.