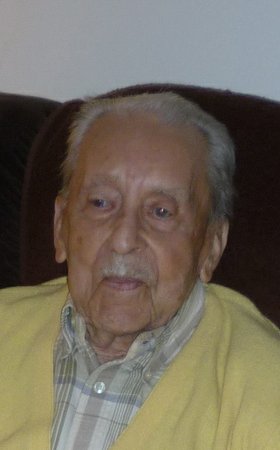 Hollis A. Thomas
unknown - August 30, 2013
Hollis A. Thomas 99 of Kester Road, Elbridge died peacefully Aug. 30, 2013, in St. Joseph's Hospital, less than four months short of his 100th birthday. He was born Dec. 16, 1913, in Steuben, Ohio, the son of Rev. Charles N. and Blanche M (Risley) Thomas.
As the son of a Presbyterian minister, his childhood was spent in several small towns and villages in Upstate New York. His father retired from the ministry in 1930 and the family returned to the family homestead on Kester Road. Hollis graduated from Elbridge High School in 1934 where he rode his Indian motorcycle to school and was the starting pitcher for the baseball team. He married Ruth M. Culver of Owasco in 1939. Hollis and Ruth lived briefly in Jordan, Sennett and Owasco before moving to the town of Elbridge in 1947 where they lived for over 60 years. Hollis was a direct descendent of at least a dozen Revolutionary War patriots, two of whom John Kester and David Redman were pioneer settlers on Kester Road while the Thomas and Risley families established early homesteads in the towns of Owasco and Fabius. Hollis was a natural mechanic and engineer and was employed for many years at automobile dealerships in Auburn and Elbridge. He then worked for several years at a foundry in Syracuse before becoming chief mechanic for the Port Byron Central School district from which he retired in 1979. In retirement he operated Rail Fence Antiques with his wife for many years, became an expect willow basket maker, tinkered with his antique saw mill, and continued to drive his motor home to Florida each autumn into his 98th year. His wife Ruth died in 2003.
Surviving are five daughters Marilyn A. (Gerald) Boardman of Cheboyan, Mich., Nancy T. (Alan) Ross of Landrum, SC, Karen E. (Paul) Luziani of Union Springs, Sandra L. Peer of Auburn, and Victoria K. (Guy) Pirolla of Syracuse, two sons Dr. Hollis A. (Yvonne) Thomas Jr. of Spotsylvania, VA and Leonard S. Thomas of Amarillo, Tex. 13 grandchildren, several great-grandchildren and sister-in-law Betty (Richard) Lafever of Owasco. The family would like to thank the staffs at the Villas of Summerfield and Camillus Ridge for their loving care of Hollis during his last months. Also a very special thank you to all of his Kester Road neighbors for their kindness, friendship and concern over the years.
Calling hours: 5-7 p.m. Monday, Sept. 9, at the Bush Funeral Home 120 East Main St. Elbridge. Graveside services: 11 a.m. Tuesday, Sept. 10, in Elbridge Rural Cemetery, Route 5 East, with the Rev. Arthur George officiating. Contributions may be made to the Elbridge Free Library or the Elbridge Community Church.