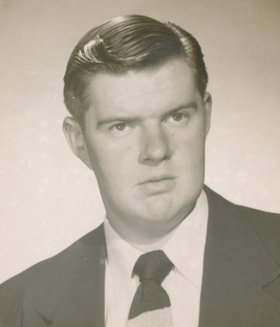 Robert Evans
unknown - October 25, 2013
Robert Clair Evans, 83, of Baldwinsville passed away peacefully on Friday, Oct. 25, 2013 with family by his side. He was born to Robert and Mildred Evans on Aug. 6, 1930. Robert was a lifelong resident of Baldwinsville and spent his summers in the Adirondack Mountains. After graduating from Baldwinsville Academy he served in the United States Marine Corps and later attended LeMoyne College where he received a bachelor's degree in business administration. He spent 12 years as a district manager with Chevrolet Motor Division and went on to become a partner in VanWie Chevrolet. In 1989 along with his son became the owners of the dealership, renaming it Evans Chevrolet.
Survivors: his loving wife Carol (VanWie); his three children, Mark (Patti) Evans, Cary (John) Scholten, Abigail (Randy) Shute; five grandchildren, Adam, Jake, Evan, Seth, Wyatt; his sister, Regina Cochrane and his sister-in-law, Charlaine "Mike" Danaher.
Services: 10 a.m. Thursday, Oct. 31, at St. Mary's Church, 47 Syracuse St., Baldwinsville. Burial in Riverview Cemetery. Calling hours are 4-8 p.m. Wednesday, Oct. 30, at the Falardeau Funeral Home, 93 Downer St., Baldwinsville. Contributions: to the Human Development Committee of St. Mary's Church, specifically for food for the needy.