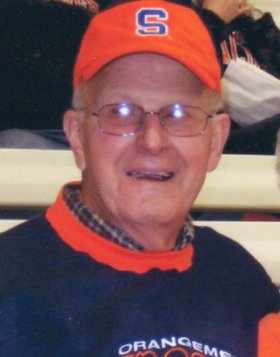 Maynard Bratt
unknown - October 30, 2013
Maynard G. Bratt, 85, passed away Wednesday, Oct. 30, 2013. He owned and operated his family farm on Tater Road and drove delivery truck for Plainville Turkey Farm, retiring in 1993. He was predeceased by his wife Olive L. Bratt, who passed away in May of 2013; his son Arthur Sr. in 2001, and a brother Allen in 2006.
Surviving are two sons, John (Hope) and Donald Sr. (Kathy); a daughter Marilyn ( Rhory) Kline; daughter-in-law Cheryl; a brother Ralph; 11 grandchildren, and 10 great-grandchildren.
Services: 11 a.m. Saturday, Nov. 2, at the Plainville Christian Church. Burial will be held in Plainville Cemetery. Calling hours: 4-7 p.m. Friday, Nov. 1, at the Gates Funeral Home, Inc., 29 W. Genesee St., Baldwinsville. In lieu of flowers, contributions may be made to the Plainville Christian Church or Baldwinsville Meals on Wheels.