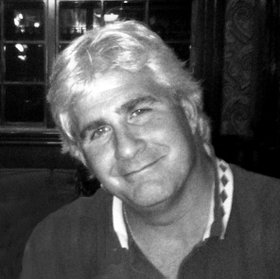 J. Michael Burns III
unknown - October 20, 2013
J. Michael Burns III, 55, of Manlius, passed away suddenly, Oct. 20, 2013, among good friends, enjoying what he loved. Born in Syracuse, Michael graduated from Henniger High School and Louisiana Tech University. He served in the Air Force from 1981 to 1985. He was agency vice president of MassMutual Central New York. Michael was an avid golfer, Raiders fan and had run in the Utica Boiler Maker Race for 10 years. He was a member of SAIFA, chairman of the Enable Golf Classic fund raiser, active in the Boys and Girls Club, American Heart Association and the Center State CEO.
He is survived by his loving wife of 30 years, Allison Webb Burns; his beloved daughters, Ashley Burns (Gino) Molfino, Maggie Burns, Emily Burns and Joey Michaela Burns IV; granddaughter, Poppy Anne Molfino; his parents, Johanne and Joseph M. Burns, Jr.; brother, James Matthew Burns; sisters, Katie (Eric) Cleland, Elizabeth (Mike) Vavonese, Margaret (Mark) Kastner and Annie (Bob) Baggett; his mother and father-in-law, Arlene and Jack Webb; and many nieces and nephews.
Calling hours: from 4 to 7 p.m. Wednesday, Oct. 23, at the Newell-Fay Manlius Chapel, 8171 Cazenovia Road, Manlius. Mass of Christian burial and celebration of his life: 10 a.m. Thursday, Oct. 24, at Immaculate Conception Church, 400 Salt Springs St., Fayetteville. Private burial will be in Fayetteville Cemetery. In lieu of flowers, contributions may be made to Enable, 1603 Court St., Syracuse, NY 13208. For a guest book, please visit scheppfamily.com.