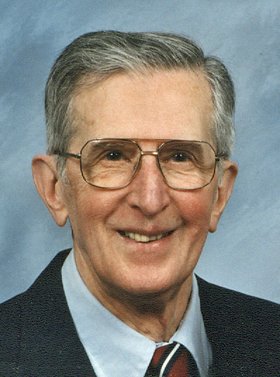 Paul E. Billy
unknown - October 20, 2013
On this day we lost a gracious and grateful man, Paul E. Billy of Syracuse, who passed away peacefully Sunday, Oct. 20, 2013, surrounded by his loving family. Just three days shy of his 92 birthday, he was born in Syracuse on Oct. 23, 1921. A graduate of Nottingham High School and Powelson Business Institute, he was a Navy veteran of WWII, serving on an aircraft carrier in the South Pacific.
Paul retired from Crouse Hinds after 47 years. He was a communicant of St. Joseph's Church. He enjoyed birds, gardening and was the family photographer, always saying "nice picture!" He loved spending time with his family.
We will miss this great man who would find or create the goodness and wonder in all we experienced. His legacy is the life lessons that he taught everyone by the way he lived his life, his exuberance lives on.
Paul was predeceased by his wife of 59 years, Jeanne in 2010; and brothers, Joseph, William, Francis and Michael Billy.
Surviving are his daughters, Linda Billy Sorbello of Camillus and Lisa (Tom) Billy Blessis of Granby, CT; son, Scott P. Billy of Johannesburg, South Africa; grandchildren, Emily Sorbello, Brian (Stacy) Sorbello, and Chelsea and Katherine Blessis; great-granddaughter, Sophia; sister, Irene Crandon of Syracuse; and many nieces and nephews.
There were no calling hours.
Rev. Peter Worn, Rev. Richard P. Prior Jr. and Deacon Nick Alvaro celebrated a mass of Christian burial at 2 p.m. on Thursday, Oct. 24 in St. Joseph's Church. Paul was laid to rest in Greenlawn Cemetery, Warners. In lieu of flowers, contributions may be made to one's favorite charity. Please share condolences at buranichfh.com.