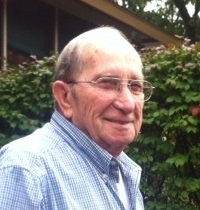 William Craw
unknown - October 23, 2013
William Howard Craw "Bill," 81, of Fayetteville, died peacefully on Wednesday, Oct. 23, 2013, at home with his loving family by his side. He was born in Syracuse on May 11, 1932. He graduated from Fayetteville High School and served in the United States Air Force during the Korean Conflict. Bill retired from Hueber-Breuer Construction Company in 1994. He had also worked for Dygert Construction Company for 20 years.
Bill served as Assistant Fire Chief in the Fayetteville Fire Department. He enjoyed spending time at his camp in the Adirondacks, playing golf and spending time with his beloved family and many friends.
He is survived by his wife of 60 years, Alice (Block) Craw; two sons, James (Schauvone) Craw, Jerry (Kathy Laird) Craw; two daughters, Pamela (Andrew) Fleming and Paula (David Jones) Craw; two grandsons, Sean and Derek Fleming; one brother, Ernest (Marilyn) Craw; three sisters, Gladys Riley, Helen Crawford and Arlene Compoli.
A celebration of Bill's life: noon to 3 p.m. Saturday, Oct. 26, at the Fayetteville Senior Center, 584 E. Genesee St., Fayetteville. A private burial, at the convenience of the family, will be held at the Fayetteville Cemetery.
In lieu of flowers, memorial donations may be made to Hospice of Central New York, 990 Seventh North Street, Liverpool, New York 13088.