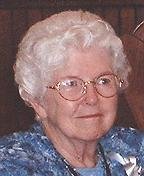 Shirley Whitmore
unknown - October 21, 2013
Shirley Clark Whitmore, 88, of Liverpool, formerly of Memphis, passed away Monday, Oct. 21, 2013, after a brief illness. She was a 1947 graduate of Oswego State and for 19 years she taught kindergarten at Jordan- Elbridge. Shirley was a member of the Jordan United Methodist Church where she was a former choir member. She was an avid quilter and traveler.
Shirley was predeceased in 1987 by her husband Frank Whitmore. Shirley is survived by her daughter Stephanie (Michael) Manfredi, two sons Leslie (Bonnie) Whitmore and Bryan (Sue) Whitmore, six grandchildren Christine (Matt) Chapman, Heather (Mark) LaRosa, Jeffrey (Deanna) Whitmore, Michelle Manfredi, Dan (Patty) Whitmore, Tom (Kate) Whitmore, seven great-grandchildren, several nieces, nephews, and cousins.
Services: noon Saturday, Oct. 26, at the Bush Funeral Home, Elbridge. Calling hours: 10 a.m. to noon prior to the services at the funeral home 120 E. Main St., Elbridge. Burial will be private in Greenlawn Memorial Park. Contributions may be made to the Jordan United Methodist Church.