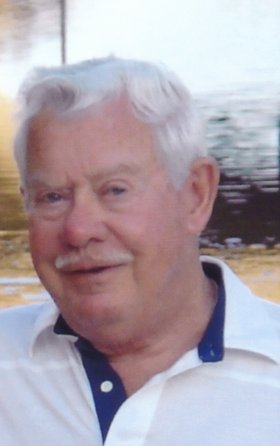 John Claus
unknown - October 9, 2013
John Perry Claus passed away Oct. 9, 2013 in North Carolina where he was living with his daughter Karen. John lived in Central New York for the major part of his life, residing primarily in Fair Haven and Baldwinsville. He was born in Gloversville, N.Y., to Perry and Harriet Claus. John was a WWII combat veteran in the U.S. Army Corps of Engineers; he served in both the European and Pacific theaters. Taking advantage of the GI bill he graduated from Syracuse University in 1950 with a degree in business administration. He continued his education with a master's degree in education from SUNY Oswego in 1962 and an Education Administration Degree in 1965. John worked for the Baldwinsville School District from 1960, as a teacher and an elementary principal, until 1983 when he retired. John was married for 63 years to Maryln Angell and together they had ten children. They especially enjoyed celebrating holidays with their children and many grandchildren and traveled many times to the Cayman Islands.
John was predeceased by his wife Maryln Claus in 2010, son James Claus in 1998, and great-grandson Connor Summerville in 2003.
Survivors: daughters, Dona McIntyre (Ken) of Baldwinsville, Joan Schaffer (Paul) of Fair Haven, Lynn Campbell (Bill) of Hummelstown, PA, Jean Accordino (David) of Red Creek, Mary Tyler of Baldwinsville, Karen Czysz (Bernie) of Fuquay-Varina, NC and Judy Lamica (Randy) of Weedsport; sons, David Claus (Nancy) of Baldwinsville and John R. Claus of Baldwinsville. John also has 27 grandchildren and 35 great-grandchildren who will all miss him very much.
Calling hours are 10 a.m. – 12:15 p.m. Monday, Oct. 28, at the Falardeau Funeral Home, 93 Downer St., Baldwinsville followed by a Mass of Christian Burial in St. Mary's Church. Burial in St. Mary's Cemetery, Baldwinsville
Contributions: In his memory to St. Mary's Church, 47 Syracuse, St., Baldwinsville, NY 13027.