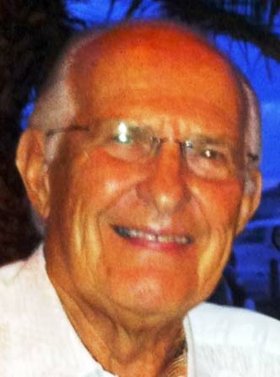 Ronald H. Nichols
unknown - October 2, 2013
Ronald H. Nichols, 81, formerly of Camillus, passed away Wednesday, Oct. 2, 2013 in Sun City Center, FL. Born in New Kensington, PA, he raised his family in Camillus and made Florida his permanent residence in 2009. Ronald served in the U.S. Army during the Korean War. He studied engineering at the Milwaukee School of Engineering and was CEO and co-owner of several manufacturing companies.
Ronald had a zest for life and was an extremely loving and generous man. He touched many hearts and souls and was truly a giver. He enjoyed traveling, the beach, fishing, boating, Formula One racing, and playing volleyball. He lived life to the fullest and will truly be missed by the many lives he has touched.
Ronald was predeceased by his parents, Harry and Mildred; sisters, Betty Lou Friel and Shirley Armitage; and wife, Rosalyn Giacobbi.
Surviving are the last love of his life, Laura Kennedy; daughters, Sharon K. Nichols of Charlotte, NC, Susan J. (Lee) Martin of Camillus and Kris E. (Gerry) Gutchess of Baldwinsville; grandchildren, Shane and Jamie Martin and Karley and Tyler Gutchess; and several nieces, nephews and cousins.
Relatives and friends called from 1 to 2:30 p.m. Saturday, Oct. 12, at the Buranich Funeral Home, 5431 W. Genesee St., Camillus. Services followed at 2:30 p.m. at the funeral home with Rev. Gary Ferner officiating. Share condolences at buranichfh.com.