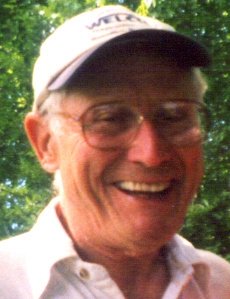 Merrill Rowley
unknown - September 13, 2013
Merrill K. Rowley, 92, died Friday, Sept. 13, 2013, at home, under the care of Hospice of CNY. He graduated from Baldwinsville Academy and was an Army Air Force veteran of WWII. He worked and retired from Lamson /Diebold in Syracuse. He spent his free time helping friends, neighbors and relatives with all their projects. He loved his motorcycle, water skiing, hunting, fishing and volleyball.
He is predeceased by his father, John A. Rowley, and mother Grace M. Rowley of Liverpool.
Survivors: his wife of 71 years, the former Irene D. Pientka; his sons, Merrill P. Rowley of Florida, James M. Rowley of Baldwinsville; his daughter and son-in-law, Joan and Gary Bippus of Clay and a foster son, Edward Orlick of Syracuse; 4 grandchildren; 6 great-grandchildren; a brother Donald A. Rowley of VA and a sister, Dorthea Thoman of VA; many nieces, nephews and friends of all ages.
Services: 7:30 p.m. Tuesday, Sept. 17, at the Falardeau Funeral Home, 93 Downer St., Baldwinsville. Calling hours: 4-7 p.m. Tuesday prior to the service. Burial 12:30 p.m. Wednesday, Sept. 18, in Riverview Cemetery. Contributions: In lieu of flowers to Hospice of CNY, 990 Seventh North St., Liverpool, NY 13088-6148.