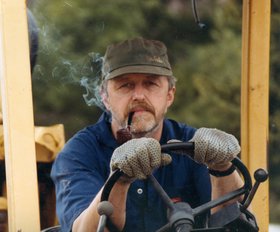 Douglas Trush
unknown - October 15, 2013
Douglas Trush, 61, deer whisperer, rum drinker, businessman extraordinaire and world's best dad, passed away Tuesday, Oct. 15, 2013, peacefully in his home atop the hills of Nelson.
Born in New Haven, CT, to Ramona "Pat" and John Trush Jr. he graduated from Morrisville High School in 1969 and went on to Paul Smith's College. Doug's innate sense of leadership and determination are what helped him to become the president of Trush Inc. in his early twenties.
Doug had a love affair with nature. He was always up early to photograph the sunrise and to spend quiet mornings amongst the animals and trees, both of which he took great pleasure in caring for. Doug was a wildlife rehabilitator for 17 years, rescuing raccoons, bunnies and beavers, but was most fond of his beloved deer. It's true that deer both flocked to and feared him. As a smart and passionate outdoorsman, he loved a great hunt and had a story for each and every trophy.
Doug's proudest accomplishment however was being a dad. He howled with pride at the birth of his daughter, Juli, and shortly thereafter his son, John. It was no surprise to find Doug on the sidelines of every field hockey or basketball game. Heck, he'd even make every scrimmage and practice, too. He wouldn't miss a chance to eat school lunch with them every year on their birthday. He'd write notes to teachers like, "Juli and John didn't come to school yesterday because they went skiing with their Dad." In the winters he'd spend hours digging endless snow caves, and summers building giant sand castles on the coast of Cape Cod. All for his kids. His life. His pride and joy.
In addition to his children, Juli (Dan) Pace and son John, he leaves his faithful companion, Captain; brother Glen (April) Trush,;a sister, Lisa (Cal) Nichols, many nieces, nephews, and a host of long time friends; all who will fondly remember Doug sitting in his favorite recliner, watching sportsman's shows and smoking his pipe.
Funeral services: 2 p.m. Sunday, Oct. 20, at the Welsh Church, Welsh Church Road, Nelson. Calling hours: 2 to 5 p.m. Saturday, Oct. 19, at Tait Funeral Home, 2333 Fenner Road, Cazenovia. In lieu of flowers donations can be made to the Upstate Golisano Children's Hospital in memory of Doug. To extend an online condolence, please visit taitfuneralhome.com.