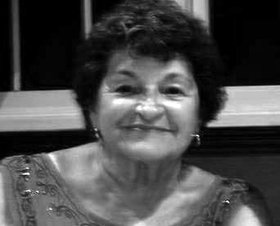 Barbara Organski
unknown - October 13, 2013
Barbara (Wierzbicki) Organski, 78, of Baldwinsville passed away Sunday, Oct. 13, 2013, at University Hospital surrounded by her loving family. Born Feb. 8, 1935, to Joseph and Ethel Wierzbicki (Wordan). Barbara retired in 1997 as director of payroll from University Hospital. She was an active member of the Baldwinsville Senior Center and W.O.T.M. where she was a Senior Regent for two years. She volunteered her time at PEACE and Meals on Wheels. Barbara loved to travel and cherished her trips with her family to Ocean City MD, Tucson AZ, Medford OR, Jamaica and her dream trips to China.
"Mom, you were the most selfless person we have ever known. Your contagious smile and heartfelt laugh will live on forever in our hearts."
Survivors: Her husband of 56 years, Charles, who provided constant devotion especially these past two years, three daughters and their families; Christine Organski & Tony Kowalski of Baldwinsville, and their daughter Alexandra Kowalski and Brian Stackiewicz, daughter; Susan Crane and Donald Rauschmeier of Binghamton, and their children, Sara and Jesse Emm, Ashley Crane, Kate and Steven Derzanovich, Robert Rauschmeier, and Amy and Ryan Murphy, daughter; Karen (Organski) and John Pyrtle of Baldwinsville and their son Tony Organski; brothers and sisters; Joseph and Phil Wierzbicki of Kirkville, John and Joan Wierzbicki of Tucson AZ, Arlene and Joseph Scrivani of Fayetteville, Charlotte and Gary Hoppe of Medford OR, several great grandchildren and many nieces , nephews, and cousins.
Services: 10 a.m. Tuesday, Oct. 22, at St. Mary's Church. Burial will be in Sacred Heart Cemetery. Calling hours: 4 to 7 p.m. Monday, Oct. 21, at the Falardeau Funeral Home, 93 Downer St., Baldwinsville. In lieu of flowers, Contributions may be made to PEACE, Inc. 93 Syracuse St, Baldwinsville, NY 13027. or Baldwinsville Meals on Wheels, 76 Canton St. Baldwinsville, NY 13027.