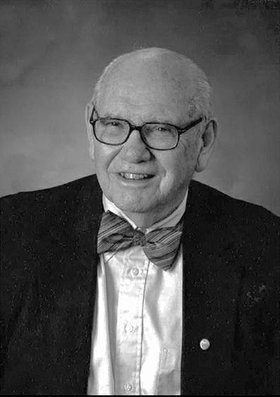 Royal Kinsley, Sr.
unknown - October 8, 2013
Royal Bingham Kinsley, Sr., 91, of Marlborough, MA, and former resident of Baldwinsville, died peacefully at Upstate Medical Center in Syracuse on Oct. 8, 2013. He was born Oct. 2, 1922, in Orleans, VT, to Lucy Belle (Stewart) and Leroy Tyler Kinsley and lived there until he joined the Navy in 1942, where he served for six years. He then earned a BS in Electrical Engineering from Indiana Technical College, now Indiana Institute of Technology, in Fort Wayne, IN. He was employed as an electrical engineer at the General Electric Company from 1952 to 1961 in Utica and from 1961 to 1986 in Syracuse. He married Jane Holmes In 1959 and they resided in Utica for two years, then in Baldwinsville until her death in 2002. In 2005 he moved to Marlborough, MA, to be near his children and grandchildren.
He is predeceased by his sister Ruth Nault and is survived by his children, Katherine Ann Healey of Marlborough, MA; Laura Jane Drinkwater of Littleton, MA; and Royal Bingham Kinsley, Jr. (Tad) and Tad's girlfriend, Kolin Calderwood, of South Londonderry, VT. He is also survived by his grandchildren: Mark Healey; Heather, Elizabeth, Sarah and Benjamin Drinkwater; Tyler Kinsley; and Terry and Corey O'Connell; and he is survived by four nieces and one nephew and their families.
In Baldwinsville, Mr. Kinsley was a very active member of the First Presbyterian Church, serving as an elder, deacon, clerk of session and a number of other roles; and he was a member of the church choir for 44 years. He was also a member of the Baldwinsville Community Band and the Baldwinsville Theatre Guild; and he was active with the Baldwinsville volunteer Center, the Christmas Bureau, Meals on Wheels. He was named the 1990 Baldwinsville Chamber of Commerce Man of the Year for community service. In Massachusetts, he resided first at New Horizons in Marlborough and later at Emeritus at Farm Pond in Framingham. The Plymouth Church of Framingham, UCC was his church home in the last years of his life.
There are no calling hours. Funeral services: 1 p.m. Saturday, Nov. 2, at the First Presbyterian Church in Baldwinsville. Private burial will be at Riverview Cemetery in Baldwinsville.
Contributions in his memory may be made to the First Presbyterian Church, 64 Oswego St., Baldwinsville, the Baldwinsville Community Band, C/O Phill Sterling, 88 1/2 Oswego St., Baldwinsville, or the Baldwinsville Theater Guild, PO Box 87, Baldwinsville, NY 13027.