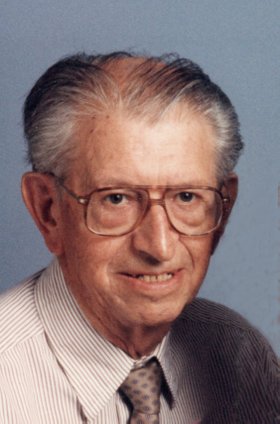 Eldred M. Myers
unknown - October 2, 2013
Eldred M. Myers, 91, of Syracuse, passed away peacefully Wednesday, Oct. 2, 2013, at Iroquois Nursing Home. Born in Fremont, N.Y., he lived in Syracuse since 1954. He served in WWII with the 106 Infantry Division and fought in the Battle of the Bulge.
Eldred was a graduate of the University of Maryland. He retired in 1986 after 32 years with General Electric. As an electrical engineer, he worked on the early space program designing radar which tracked John Glenn's flight. He loved spending time with his family and the outdoors, especially camping, skiing and traveling widely. He also enjoyed woodworking. After retirement, he donated many years to Habitat for Humanity.
Eldred was predeceased by his brother, Marcus Myers Jr.
Surviving are his wife of 63 years, Eleanor; daughters, Leslie (Gary Van Zante) Myers of RI and Christina (Dung) Myers Phan of PA; sister, Dorothy Sprague of SC; brothers, Matthew Myers of NY and Merle Myers of TN; grandchildren, Jeremy and Rachel Phan; and several nieces and nephews.
Relatives and friends called from 11 a.m. to noon Monday, Oct. 7, at the Buranich Funeral Home, 5431 W. Genesee St., Camillus. Services followed at noon at the funeral home with Rev. Tanya Atwood-Adams officiating. Eldred was laid to rest in Greenlawn Cemetery, Warners.
In lieu of flowers, contributions may be made to Habitat for Humanity, 901 Oak St., Syracuse, NY 13203 or Alzheimer's Research and Prevention Foundation, P.O. Box 30783, Tucson, AZ 85751.
Please share condolences at buranichfh.com.