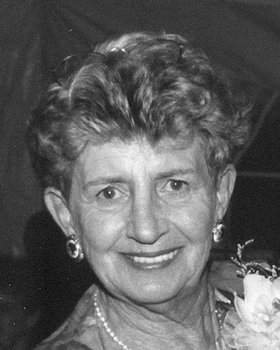 Marilyn A. Cowden
unknown - October 4, 2013
Marilyn A. Cowden, formerly of 203 Valley Drive, Elbridge, passed away peacefully on Oct. 4, 2013, at her home in Manlius with the comfort and support of her family by her side. Marilyn was born in Utica and was the daughter of the late Frederick C. and Ann Crocker. Marilyn spent her early school years in Herkimer and later attended the Mary Burnham Preparatory School for Girls. She then moved on to study secretarial science and graduated in 1951 from Rider College in New Jersey where she also received awards for the fastest typist and as the most prominent pianist.
After graduation, Marilyn moved to New York City where she became executive assistant to the president of the Lily Tulip Cup Company. She also held a position with the American Red Cross; lived on Eighth Ave and loved the city life. During a visit back home, she became re-acquainted with Gerald (Jerry) Cowden and returned to Herkimer as their relationship grew. Marilyn worked for General Electric until her marriage to Jerry on June 21, 1954. The couple moved to Syracuse and Marilyn was awarded a new position working for Roland Marvin, mayor of Syracuse, while Jerry completed his education at Syracuse University. They were married for 49 years, until Jerry passed away on Aug. 22, 2003. She was also predeceased by her daughter Maureen Warner-Clemens and her brother Frederick H. Crocker.
Marilyn became the proud mother of five children and devoted the greater part of her years to caring for them and watching them grow. She taught religious education and was a communicant of St Patrick's Church in Jordan. She was an avid supporter of the Jordan-Elbridge Marching Band, Football, Lacrosse and the PTA. She also enjoyed golfing, her bridge club and several vacation cruises. She volunteered for over 20 years at the Auburn Community Hospital Emergency Room and Gift Shop and has been a strong supporter of the Syracuse Alzheimer's chapter. Marilyn was a fun-loving soul, had many many friends and enjoyed her manhattans till the end.
Marilyn is survived by her children Colleen Wilson of St. James, son and daughter-in-law Gerald P. (Jerry) and Christine Cowden of Fulton, daughter and son-in-law Cathleen (Kitty) and Emil Filkorn of Cazenovia and son Michael A. Cowden of Skaneateles, and 13 grandchildren.
She will be greatly missed by her family and many friends.
Calling hours: 4-7 p.m. Tuesday, Oct. 8, at the Bush Funeral Home 120 E. Main St., Elbridge. Mass of Christian burial: 10 a.m. Wednesday, Oct. 9, in St. Patrick's Church Jordan. The Rite of Committal and Burial will be in St. Patrick's Cemetery. Contributions may be made to Wynwood Assisted Living Facility Resident Council, 100 Flume Road, Manlius, NY 13104 or Auburn Community Hospital.