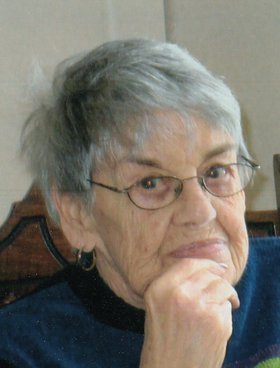 Rita I. Moore
unknown - August 29, 2013
Rita I. (Bahr) Moore, 85, died peacefully in her sleep Sunday morning, Sept. 29, 2013 after a courageous and graceful battle with cancer. She will be remembered dearly by her children, Timothy A. (Lynda) Moore of Cazenovia, Steven J. (Karen Walter) Moore of Skaneateles and Colleen A. (Edward) Frank of Skaneateles. She is also survived by her grandchildren, Timothy K. (Beth) Moore, Andrew B. (Lauryn Davis) Moore and Kate (Nick) Paben.
She was predeceased by her husband Donald A. Moore in 1994. They were married on July 10, 1948 in Utica, and raised their family there. Rita worked for Continental Insurance and acted as the Insurance Arbitration secretary for years in the Upstate Region. When Continental closed the office, Rita characteristically moved on to her second career and enrolled in nursing school. She worked at St. Luke's Hospital in Utica until her retirement in 1990. In 1998, she moved to Skaneateles to enjoy her retirement.
Rita loved vacationing with her family in the Adirondacks and at Cape Cod.
She loved a boat ride on any lake on a beautiful day and was known to drop a fishing line in if she had the chance. She took great joy in having her family together, for any occasion and liked it all the better if a game of pitch or poker was involved.
She lived her life with grace, dignity and good humor. No one can ever remember her raising her voice or speaking in anger. She will be deeply missed.
Services were held at the Robert D. Gray Funeral Home 49 Jordan St. Skaneateles, on October 2, 2013.
The family would like to thank the staff of Community General Hospital for their care of Rita and especially the wonderful people at the Auburn Nursing Home who made her last days comfortable.
Private burial: Thursday Oct. 3 at Mount Olivet Cemetery, Whitesboro, N.Y.
In lieu of flowers contributions may be made to the Macular Degeneration Research Foundation (eyesight.org) or to the SPCA of Central New York.
To send condolences visit: robertdgrayfuneralhome.com.