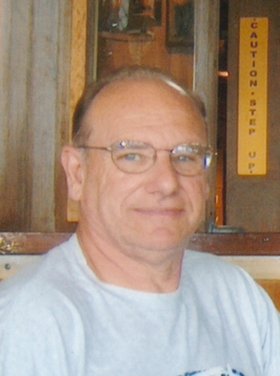 Leon W. Goldthwait
unknown - November 27, 2013
Leon W. Goldthwait, 66, of Baldwinsville died Wednesday, Nov. 27, 2013, at Francis House. He was born Sept. 15, 1947, in Syracuse, to Murton and Alice (LaFrance), and was a lifelong resident of the Syracuse area. He graduated from West Genesee High School in 1967, and married Elaine Root on May 2, 1970, in Warners.
Leon served in the U.S. Army from 1967 to 1970, and was a helicopter crew chief with the 7/1st Air Calvary in Vietnam. After his discharge he worked as a diesel engine mechanic with Clinton's Ditch Cooperative retiring in 2007. He enjoyed spending time at his camp in the Adirondacks, wood-working, and he was never happier than when he was cooking a large meal for friends and family
Survivors: his wife Elaine; son and daughter-in-law, Leon and Molly Goldthwait of Lancaster; daughter and son-in-law, Judy and Andy Lewandowski of Cazenovia; daughter, Tina Goldthwait of Baldwinsville; grandchildren, Beatrice and Henry Goldthwait of Lancaster; and Ansleigh Lewandowski of Cazenovia; sister, Joyce Nelson of Brewerton; brother and sister-in-law, Murton "Butch" and Zoe Goldthwait of Memphis; brother, David Goldthwait of Conquest; brother and sister-ion-law, Paul and Roberta Goldthwait of Cicero; and brother and sister-in-law, Edward and Annie Goldthwait of Hannibal.
He is preceded in death by his sister Mary and brother Steven.
Services: 10 a.m. Saturday, Nov. 30, at the Falardeau Funeral Home, Baldwinsville. Burial in Riverview Cemetery. Calling hours: 4-7 p.m. Friday, Nov. 29, at the funeral home, 93 Downer St.
Contributions: American Cancer Society, 6725 Lyons St., E. Syracuse, NY 13057, Hospice Of CNY, 990 7th North St., Liverpool, NY 13088-6148 or Francis House, 108 Michaels Ave., Syracuse, NY 13208.