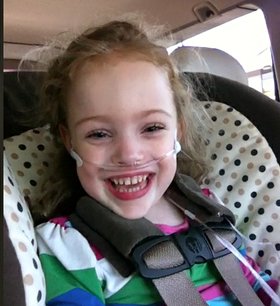 Nora Boström
unknown - November 22, 2013
Nora Thelma Boström was born Dec. 11, 2009 in San Francisco, CA, weighing only 1 pound 4 ounces. She passed away Friday, Nov. 22, 2013 in Palo Alto, CA.
Nora lived an incredibly full life and faced each challenge she encountered with perseverance, strength and grace beyond her years.
Nora loved tea parties, car rides, doggies, ice cream cones, baseball, basketball and reading books in Swedish and English. She was an avid watcher of and interactive participant in Dora and Diego, Special Agent Oso, Curious George and Bamse, amongst many others. She was passionate about birthday cakes, splashing water, Christmas, hummingbirds, listening to and making music, baking, painting and drawing. She especially loved her cousin Gigi, her best friend Katia, bike rides with her Pappa and dancing with her Mamma.
With her courage and zeal Nora showed us that each day was an opportunity to create everlasting memories, always pushing for "more" and "again." She will be remembered by all who met her as an extremely smart little girl with an irresistible sense of humor, overflowing with joy and an indomitable zest for life.
Nora was a miracle and with her passing there is a hole torn out of the hearts of her family and friends. Nora's life was illuminated by love. Every moment of every day, she was cherished by her parents and cheered on by all those who were fortunate enough to know her. Though her life was unfairly brief, she spent it surrounded by support, always aware of how special and valued she was.
Nora is survived by her mother, Claire McCormack and her father, Thomas Boström, her maternal grandparents Kevin and Fran McCormack, her paternal grandparents Thorsten and Pia Boström, her aunts Erin McCormack, Anette Armandt and Caroline Pettinger, her uncles Steve Johnson and Fredrik Armandt, and her cousins Genevieve Johnson and Alva and Alice Armandt. She was predeceased by her maternal grandmother, Thelma Stock McCormack.
Calling hours: 6 to 9 p.m. Friday, Nov. 29, at Robert D. Gray Funeral Home, 49 Jordan St., Skaneateles, NY 13152. Funeral mass: 11 a.m. Saturday, Nov. 30, at at St. Mary's of the Lake Church, 81 Jordan Street. Nora will be buried next to her Grandma Thelma.
A foundation will be formed to honor Nora. Details to follow. To send condolences visit: robertdgrayfuneralhome.com.