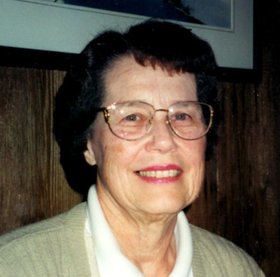 Mary Carr
unknown - November 19, 2013
Mary A. Carr, 86, formerly of Cazenovia, passed away on Nov. 19,, 2013 after a long battle with Alzheimer's disease. Mary Linna Autenrith was born in Newport, N.Y., on Aug. 30, 1927, the daughter of the late William and Mildred Autenrith. She was the Valedictorian of West Canada Valley Central School, class of 1944, and received her music degree from SUNY Potsdam in 1948.
In August of 1948, Mary married George D. Carr and they enjoyed 47 years of love and support. Mary taught public school music in Canastota for two years before starting a family.
She was active as a choir director and church organist throughout her lifetime, and even accompanied the Senior Citizen's Choir at Greenpoint when she first moved there in 2005. Mary was an accomplished musician and she taught piano lessons for over 40 years.
She and George enjoyed boating and entertaining on "Georgie's Girl." For many years, she participated in bowling leagues and excelled at bowling, pool and ping pong. Her many friends were very important to her, and she loved to entertain.
Mary was an active member of the Canastota Lionettes, Cazenovia Leonard Circle and Church Women United. Whether baking pies for the church yard sale, or offering musical accompaniment for a fashion show, Mary always gave from the heart.
She was a devoted wife, mother and grandmother who shared her passion for life with her family and took great pride and pleasure in her children's lives and successes. Mary was a reliable, kind, supportive, generous, loving and thoughtful voice in their lives. She showed her friends and family how to live life to the fullest with a smile, grace, and class.
Preceding her in death were her parents, and her husband, George.
Survivors include three sons: William M. Carr and his wife Angie of Tega Cay SC; Barry P. Carr and his wife Debby of Baldwinsville; and Robert J. Carr and his wife Cheryl of Waterloo, N.Y.; one daughter, Janet Carr-Campbell and her husband Wayne Campbell of Anchorage, AK; 13 grandchildren and five great-grandchildren.
Mary also is survived by her brother, James P. Autenrith and his wife, Audrey of Potsdam N.Y.; two sisters, Joan Stack of Boynton Beach, FL and Betsy Newman of Poland, N.Y.; and many nieces and nephews.
Mary's family extends their sincere thanks to the staff of the Syracuse Home in Baldwinsville for the compassionate care and kindness shown to her during her seven years there.
Funeral services: Tuesday, Nov. 26, at the Tait Funeral Home 2333 Fenner Road, Cazenovia, with the Rev. Barney Freeborn officiating. Interment follows at St. James Cemetery in Cazenovia. In lieu of flowers, please consider memorials to The Music Machine, Inc., 13320 Floral Lane, Anchorage, AK 99516 or to the Alzheimer's Association.
To send an online condolence, please visit taitfuneralhome.com.